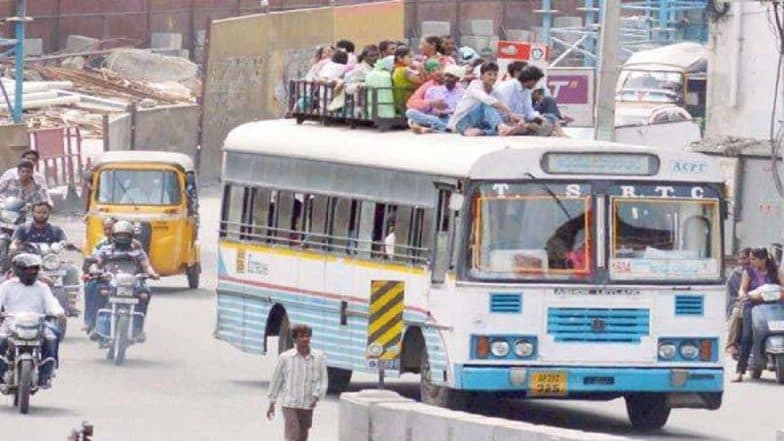 Hyderabad, October 11: The union leaders of lorry, taxi and drivers' joint action committees (JACs) have extended their support to the unions of Telangana State Road Transport Corporation (TSRTC) amid the ongoing indefinite strike in the state. According to a report by TOI, the unions threatened to go on strike along with the RTC union to protest over government's undemocratic move to finish unions. The reports states that the union leaders decided to submit separate memoranda to the governor to press for their demands.
The reports states that the trade unions would participate in a solidarity meeting on October 14 at Indira Park in support of the RTC strike. As a mark of protest, the workers of the union will stage demonstrations in front of all RTC bus depots to protest the CM's decision. TSRTC Strike: Telangana RTC Bus Employees to Stay Off Roads Leaving Commuters Stranded in Festive Season. 
The indefinite strike by RTC unions continued for the seventh day on Friday. Reports inform that nearly 48,000 employees have boycotted their duties. During the protest, the state-run buses are staying off roads, causing inconvenience to commuter. The RTC, however, added that alternative arrangements were made to run bus services from its own fleet.
Amid the ongoing turmoil in the state, the vacation bench of the Telangana High Court posted to October 15 the hearing on a petition that sought to declare the strike as "illegal." The government also submitted before the court a report informing it about the alternative arrangements taken. The court asked the government and TSRTC to file a detailed report before it by October 15. The RTC unions through their counsels submitted that as per law they had given strike notices to the government.
Employees and workers unions of TSRTC began an indefinite strike from October 5 across Telangana on a call given by the Joint Action Committee (JAC) of TSRTC. The workers are demanding merger of the RTC with the government, recruitment to various posts, among others. According to reports, Telangana Chief Minister K Chandrasekhar Rao stated that the RTC staff had "self-dismissed" themselves, the JAC of RTC with support from opposition parties had said they would intensify their ongoing agitation and call for a state-wide bandh shortly.