The current amendment in Protection of Children from Sexual Offences (POCSO) Act which states death penalty for rapists of minor girls below 12 years of age is an eye-wash! Are we just deviating from the fact that most of the rape cases involving minors in recent months resulted in brutal murders and what as per our limited knowledge about law says that the brutal murders should get the death sentence, anyhow? Then why this sudden appeal of amending the laws? And trying to score brownie points to give an impression that we are making stricter laws and are thinking towards women safety, more importantly here, safety for children.
The laws are already in place, it is our own psychology, social and moral values which need to be tightened and re-looked at. The current POCSO Act is a great initiative to incur fear among the culprits and ill-minded criminals. But do they know if such law exists? Will it change the mentality and in turn reduce the rape cases? That is what needs to be answered.
What is Protection of Children from Sexual Offences (POCSO) Act, 2012?
The Protection of Children from Sexual Offences (POCSO) Act, 2012 deals with sexual offences against persons below 18 years of age, who are deemed as children. The original act defines "penetrative sexual assault", "sexual assault" and "sexual harassment". As per the act, offence is considered graver if it is committed by a police officer, public servant, any member of the staff at a remand home, protection or observation home, jail, hospital or educational institution, or by a member of the armed or security forces.
The Act is a well-defined comprehensive law, which provides protection to children from the offences of sexual assault, sexual harassment and pornography. The act is meticulously designed to safeguard the interests of the child at every stage of the judicial process. Child-friendly mechanisms for reporting, recording of evidence, investigation and speedy trial of offences through the appointment of Special Public Prosecutors and designated Special Courts are defined in the act. And it also outlines stricter punishments graded as per the gravity of offence.
List of Various Offences and Punishments Defined Under POCSO Act, 2012 -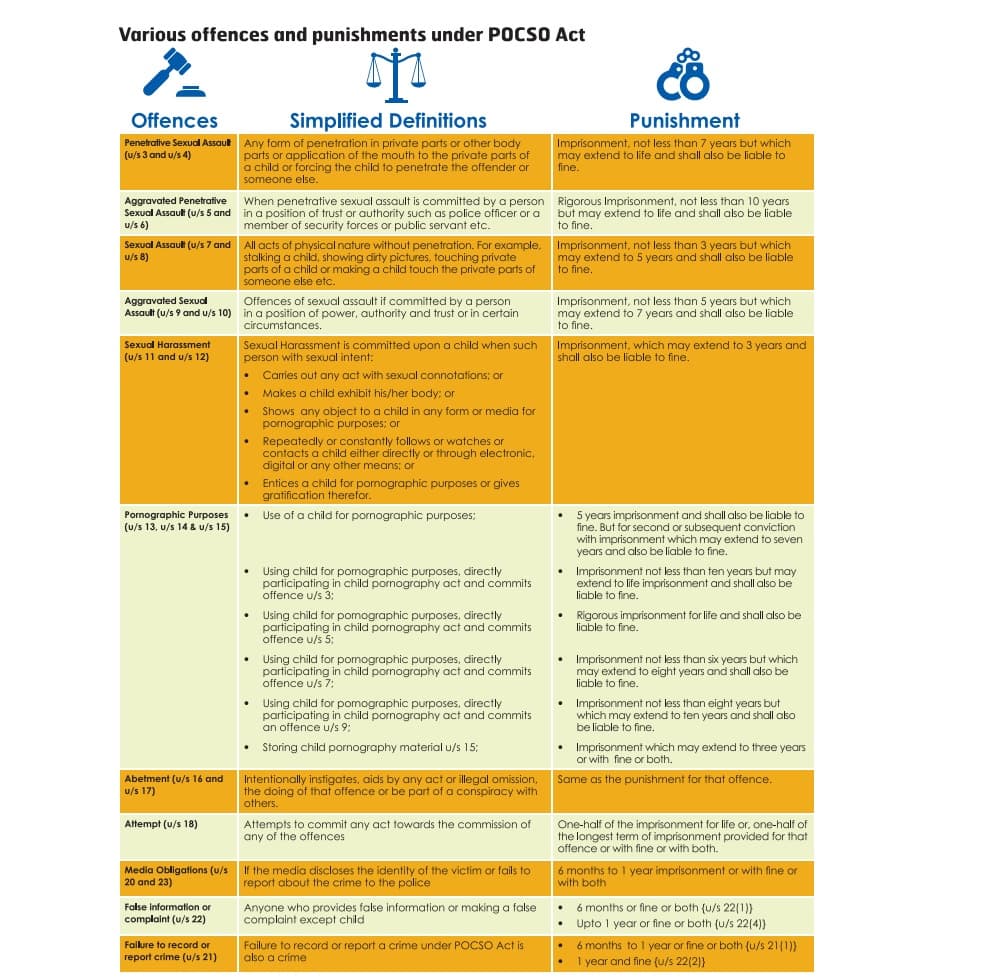 What are proposed amendments in POCSO Act?
The letter from Centre to Supreme Court of India stated that it has started the process of amending the Protection of Children from Sexual Offences (POCSO) Act which would have the maximum punishment of a death statement for rapists of children between the age group of 0 to 12. The Centre submitted its report while responding to a PIL filed by Advocate Alakh Alok Srivastava. The Cabinet gave its nod to the amendment which will now recommend it to President of India to issue Ordinance. However, the President on Sunday promulgated the ordinance to strengthen the POCSO) Act.
The number of cases in recent past on sexual assault against minor girls are on the rise, and everyone is ready with their reasoning and suggestions on how to punish the culprits so that it clearly becomes the examples for these sick minded criminals. Below are the rape cases against minor which fueled in the debates.
Kathua Rape & Murder Case –
An eight-year-old girl who was grazing her horses at Rasana village in Jammu was kidnapped on January 10, 2018. The little girl was drugged so that she couldn't raise alarm or resist the crime and held captive for a week by a group of men before being brutally murdered. The gory facts of this crime do not end here, as per the reports the eight-year-old was repeatedly gang-raped inside the temple basement.
According to the charge sheet, it lists Sanji Ram, the caretaker of Devisthan (small temple in Rassana village in Kathua, Jammu) as the main conspirator, he was allegedly joined by special police officers (SPOs) Deepak Khajuria and Surender Verma, friend Parvesh Kumar alias Mannu, a juvenile, and Ram's son Vishal Jangotra alias Shamma. The Crime Branch also arrested Assistant Sub Inspector Anand Dutta and Head Constable Tilak Raj in the case on charges of attempting to destroy evidence. The lawmakers to law enforcers are all party in this case.
Surat Rape & Murder Case
An 11-year-old girl's body was recovered in Surat on April 6 after the little girl was raped and mercilessly killed. The dreadful act was evident from the 87 injury marks found on her body, including gruesome ones in her private parts. The Police, however, claimed that they arrested the prime accused from Rajasthan, but the probe is further shocking as it was found that the minor and her widowed mother hailed from Rajasthan, were bought by the accused for Rs 35,000 to be used as bonded labourers. Could a stronger POCSO have stopped this?
Indore Rape & Murder Case –
A girl who was not even one-year-old was killed after allegedly being raped, police found the child's body lying unattended with blood spots around it near MG Road in Indore. As per details shared by the Police, one person who has been arrested in connection with the rape case is child's uncle and accused had an argument with victim's mother after which he committed the crime. Really, can any law stop such crimes?
There is not much left to inform you about several other cases from all parts of the country, as hours of prime-time debate on TV news channels and numerous digital news portals have already fed you with real and fake news related to the incidents.
My argument is POCSO or no POCSO aren't our current laws equipped enough to punish the real culprits for such brutal rape-murder charges. Do we need an amendment in the act to punish? Really or is it just an eyewash? Or if I put it in another way, if you see the profile of accused they are either illiterates or are police and law-makers themselves. The rapists and murderers in above cases will not read and do the crime according to POCSO Act. Do you think the juvenile accused in these cases really know what POCSO is? The policemen and the politicians accused and involved in these heinous crime cases don't know what consequences are? Every media house, politician, celebs know as per POCSO act, they cannot share the picture and identity of the child, still they did in Kathua Rape & Murder case! Are we really assuming the criminals are going to perform their sins keeping in mind the laws? Come-on they are law-breakers!
We, as a society, need to act and find out what is going so wrong, we all are talking upon stricter punishments and awaits the "kadi nindaa" from our politicians to satisfy our egos. We do candle marches to get justice for the victims and we are the biggest fools, as we forgot our primary school lessons "ab pachhtaye hot kya jab chidiya chug gayi khet" or "Shut the stable door after the horse has bolted" or in more simpler terms "crying over spilled milk."
Why do we just argue for a stricter punishment after the act is done, why not coming together as a society and stop the menace before it actually happens, why can't we discuss about better police infrastructure, better patrolling and surveillance in secluded areas? Can we cover all the streets with CCTV's for better monitoring? After 'Swachh Bharat' don't we need 'Savdhaan Bharat' – a more alert nation? Just an idea, no more Act needed, let's act.
(The opinions expressed in the above article are of the author and do not reflect the stand or position of LatestLY.)