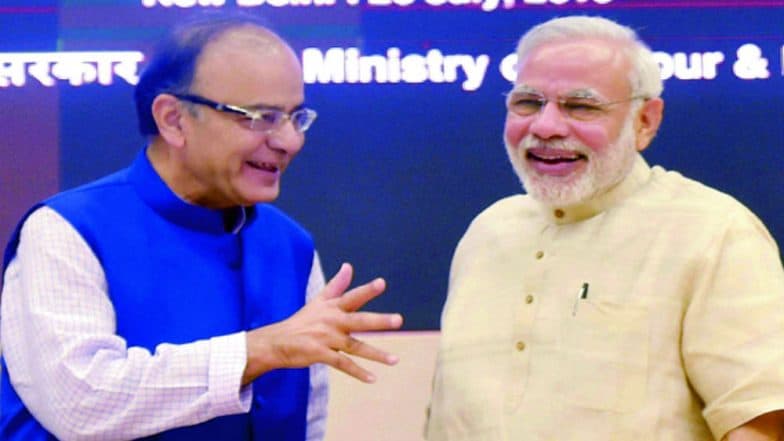 New Delhi, August 24: Arun Jaitley, former Union Finance Minister and senior Bharatiya Janata Party (BJP) leader, died on Saturday. Arun Jaitley was admitted to the All India Institute of Medical Sciences (AIIMS) after he complained of breathing issues. A day before the Modi 2.0 government was to be sworn in, Jaitley had opted out of the cabinet citing health issues. Prime Minister Narendra Modi had then described Jaitley as "a precious diamond". Arun Jaitley Dies at 66: Former Finance Minister Breathes His Last at AIIMS.
Arun Jaitley had been working closely with Narendra Modi since 2002 when the Gujarat riots left a blot on the then chief minister. Jaitley was instrumental in fighting legal battles in the aftermath of the 2002 riots. Modi and Jaitley go back a long way. Jaitley was believed to be part of the move to replace Keshubhai Patel with Modi as chief minister of Gujarat. Jaitely was among the few leaders who backed Modi during the outcry over the 2002 riots.
Jaitley was said to be behind replacing Uma Bharti with Shivraj Singh Chouhan as Madhya Pradesh chief minister in 2004. Born on 28 December 1952, Jaitley studied at St. Xavier's School in Delhi. A Punjabi Hindu Brahmin, he graduated in Commerce from Shri Ram College of Commerce, New Delhi in 1973. He passed his Law degree from the University of Delhi, in 1977. He was president of the Delhi University Students' Union.
During the Emergency, Jaitley had organised massive protests against Indira Gandhi in the campus. He had to spend 19 months in prison. After his release, Jaitley started practising law. He first drew attention in 1980 when he challenged the move by Jagmohan, then Lieutenant Governor of Delhi, to demolish the Indian Express building. This brought him close to Ramnath Goenka, Arun Shourie, Fali Nariman and most importantly VP Singh.
When VP Singh became the prime minister, he appointed Jaitleyas additional solicitor general, one of the youngest ever to hold the post. He also handled the investigation into the Bofors scandals. While Jaitley established the money trail, the probe could not find enough evidence against Rajiv Gandhi. As a lawyer, Jaitley handled many high-profile clients including BJP stalwart LK Advani, former JDU leader Sharad Yadav and Congress's Madhavrao Scindia.
When the National Democratic Alliance (NDA) first came to power in 1999, Jaitley was appointed minister by then prime minister Atal Bihari Vajpayee and over the years handled law, information & broadcasting, disinvestment, shipping, and commerce and industry portfolios. Jaitley, who was first elected to Rajya Sabha in 2002, became the leader of the opposition in the upper house in 2006. A moderate and liberal unlike his colleagues in the BJP, Jaitley has friends across the political spectrum.
Arun Jaitley Dies Aged 66: Former Union Minister & Senior BJP leader Passes Away at AIIMS
When Narendra Modi first came to power, Arun Jaitley became the number 2 in the government. Be it highlighting the government's achievements or defending controversial policies or launching a fierce attack on the Opposition, Jaitley was the troubleshooter for the Modi government. From 2014 to 2019, Jaitley strongly defended the complicated Rafale jet deal, explained how external factors increased domestic fuel prices and oversaw the implementation of the Goods and Services Tax (GST).
During the first term of the Modi government, Jaitley was undoubtedly PM Modi's go-to man. A lawyer-turned-politician, Jaitley wore many hats but could never win an election.