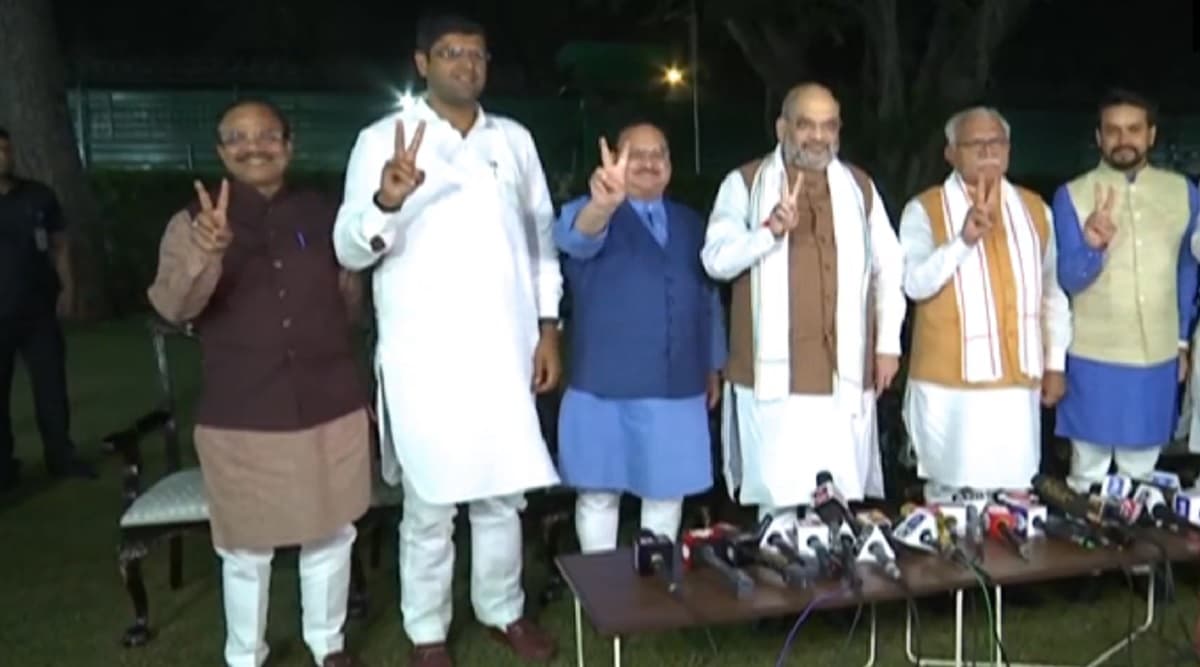 Chandigarh, October 26: A day after the Jannayak Janata Party (JPP) extended support to the Bharatiya Janata Party (BJP) in Haryana to form the government, an old video of Dushyant Chautala of slamming Prime Minister Narendra Modi over 2002 Gujarat riots is going viral on social media. Twitterati trolled the JJP President for supporting the BJP months after criticising PM Modi. They asked Chautala to delete the video now as his party now supported the BJP in the state. Manohar Lal Khattar to Take Oath as Haryana Chief Minister Tomorrow.
In the video, which was shot just before the Lok Sabha elections in Haryana, Chautala had hit out at PM Modi for not been able to deliver justice to victims of the 2002 Gujarat riots. He also slammed the PM for speaking about the 1984 anti-Sikh riots. The JJP chief also accused the BJP government of assaulting supporters of jailed godman Gurmeet Ram Rahim Singh Insaan. He even alleged that the BJP tried to spoil the image of Haryana over the Murthul incident in which 10 women were allegedly gangraped in 2016.
Dushyant Chautla's Video:
Batao Modi Ji pic.twitter.com/ClwNYSiHyk

— Dushyant Chautala (@Dchautala) May 8, 2019
Reactions of Netizens on Chautala's Old Video:
"Why You Sold Trust of Your Brothers to BJP"
Batao Chautala ji

Apne Bhaiyon ka vishwaas ka sauda kyun kiya Bjp ke saath ❓

— Pradeep Gupta (@68pradeepgupta) October 26, 2019
"Delete The Video Now"
इसको डिलीट ही कर दीजिए अब।

— Kumar Vikrant Singh (@KumarVikrantS) October 26, 2019
"U-Turn Chautala Ji"
U Turn chautala ji

— Faruk Saiyed (@SFaruk2798) October 26, 2019
The JJP contested the 2019 Lok Sabha elections against the BJP. It formed an alliance with the Aam Aadmi Party. However, after Haryana witnessed a fractured mandate in the assembly elections concluded recently, the JJP extended support to the BJP.
Manohar Lal Khattar will take oath as the Haryana chief minister for the second consecutive time. Meanwhile, Chautala will take oath as Deputy CM. Earlier, reports surfaced that, Naina Chautala, mother of the JPP President will take oath as the deputy CM. The oath-taking ceremony is likely to take place at 2 pm in Chandigarh.
In the elections for 90-member Haryana Assembly, the BJP secured 40 seats, falling short of six seats from the majority mark. The Congress also failed to secure the magic figure of 46. The grand old party won 31 seats, while the JJP bagged 10 seats.