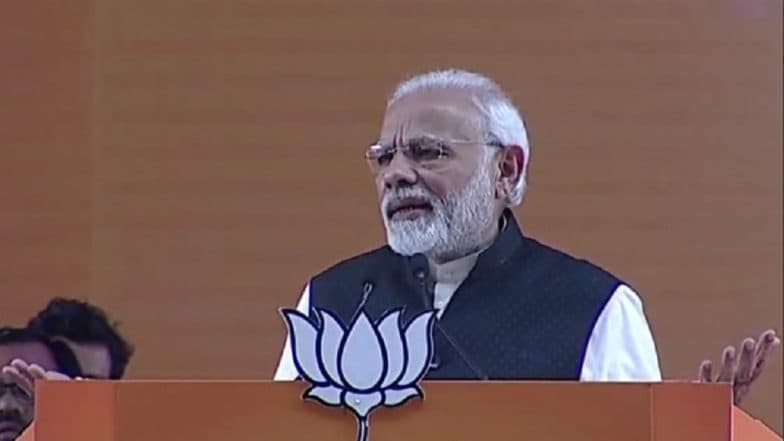 New Delhi, January 12: Warning the nation against a possible mahagathbandhan rule post 2019 Lok Sabha elections, Prime Minister Narendra Modi said the proposed coalition would be the epitome of misgovernance. Citing a case in point, Modi referred to the state government of Karnataka, claiming that the Congress is treating JD(S) leader and Chief Minister HD Kumaraswamy as a "clerk".
"The coalition government in Karnataka has reduced the Chief Minister to a clerk," Modi said, adding that the situation is grave to an extent where Kumaraswamy has to vent his frustration within months of assuming power. BJP Calls HD Kumaraswamy 'Accidental Chief Minister'.
"Only a few months into power, and he (Kumaraswamy) is already burdened by the Congress," the PM said, adding that the state has been plunged into misgovernance.
Modi's reference to Kumaraswamy comes a couple of days after the Karnataka CM, while addressing the JD(S) cadres, expressed dismay over the alleged interference by the Congress in the day-to-day functioning of his government.
A JD(S) MLA who attended the meeting told reporters that Kumaraswamy "almost cried" and claimed that the Congress is "forcing him to sign all kinds of orders".
"They forced him to expand the Cabinet and even appointed chairpersons to government run boards and corporations without his approval. He feels that it is getting tougher with each passing day," the legislator told News 18.
Apart from targeting the coalition government in Karnataka, Modi also trained his guns at the newly sworn-in Chief Ministers of Madhya Pradesh and Rajasthan.
Referring to the withdrawal of Bharat Bandh cases by MP and Rajasthan governments after BSP's ultimatum, Modi alleged that law and order is being compromised to fulfil the whims and fancies of the alliance partners.
"The nation needs a strong, stable government. For us, nothing is greater than national interest. The party comes second, and the individual last," Modi told the gathering of over 10,000 BJP office-bearers at Ramlila Maidan, which had convenend to attend the party's two-day National Convention.