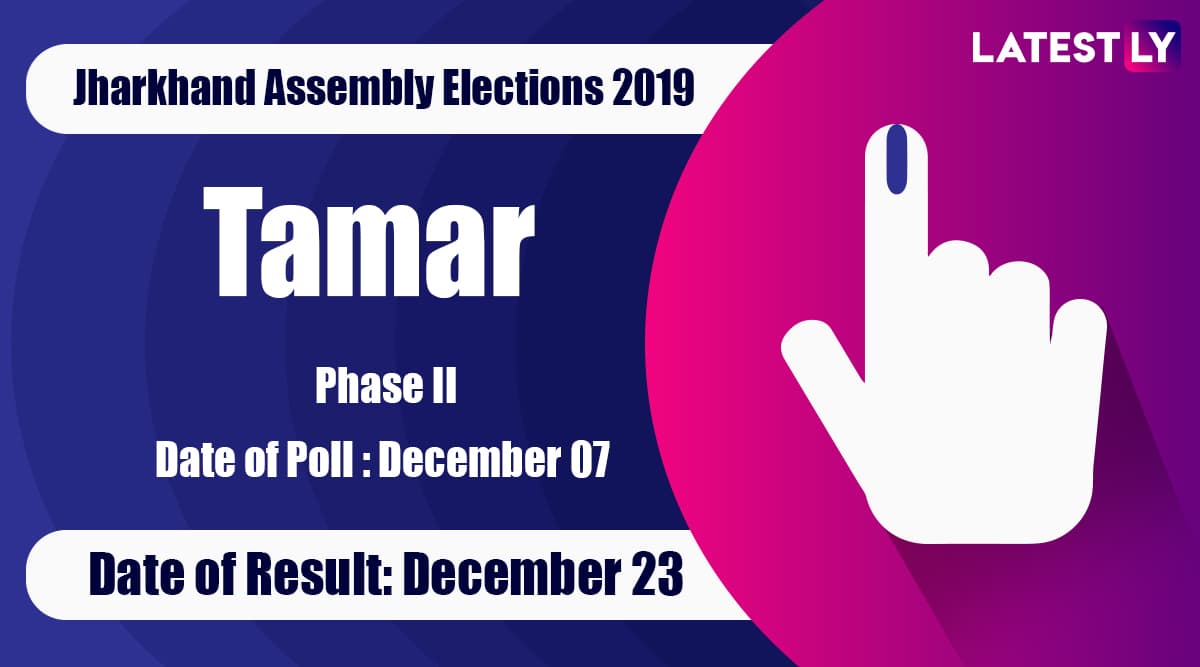 Ranchi, December 7: Tamar, the assembly seat located in Ranchi district of Jharkhand, will vote on December 7 in Jharkhand Assembly Elections 2019. The seat goes to polls in the second phase of elections, scheduled on December 7. The Tamar Assembly constituency has a total of 2.03 lakh voters. Over 50 percent of these voters belong to the Schedule Tribes (ST) category. Phase-Wise List of Seats Going to Polls in Jharkhand.
Tamar is among the 20 seats which will be contested in round two of the elections. The other constituencies are: Baharagora, Ghatsila, Potka, Jugsalai, Jamshedpur East, Jamshedpur West, Kharsawan, Chaibasa, Majhgaon, Jaganathpur, Manoharpur, Chakradharpur, Tamar, Mandar, Torpa, Khunti, Sisai, Simdega and Kolebira.
In 2014, the Tamar seat was won by Vikas Kumar. He defeated Gopal Krishna Patar by over 20,000 votes. Vikas is fighting the elections this time on a Jharkhand Mukti Morcha (JMM) ticket. He will be up against Patar, who is in the fray as an NCP candidate. The BJP has fielded Reeta Devi Munda and the JDU has given ticket to Sunil Singh Munda.
The five-phase Jharkhand elections are scheduled to be contested between November 30 to December 20. Results of the polls will be declared by the Election Commission on December 23.
The poll outcome are also likely to used as litmus test by analysts to gauge the people's sentiment towards the ongoing economic slowdown. Jharkhand is among the states which have faced the worst brunt of the economic crisis, with unemployment and job losses being projected as top poll issues.
| MLA Candidates | Party | Votes |
| --- | --- | --- |
| VIKAS KUMAR MUNDA (Current MLA) | JMM | 55491 |
| HARADHAN SINGH MUNDA | IND | 518 |
| PREM SHANKAR SHAHI MUNDA | JVM | 4225 |
| PRAKASH CHANDRA ORAON | IND | 3725 |
| SANJAY KUMAR MUNDA | IND | 2488 |
| KISHOR KUMAR BHAGAT | TMC | 1910 |
| REETA DEVI | BJP | 18082 |
| GOPAL KRISHNA PATAR | NCP | 16517 |
| DEVI DAYAL MUNDA | BSP | 1519 |
| BALIRAM MUNDA | IND | 1449 |
| LAXMI MUNDA | IND | 1192 |
| RAM DURLAV SINGH MUNDA | AJSU Party | NA |
| KUNDAN PAHAN | Jharkhand Party | NA |
| DAL CHAND SINGH | Ambedkarite Party of India | NA |
| RAKSHITESH KUMAR SINGH | Jharkhand Party (Secular), | NA |
| SUNIL KUMAR MUNDA | JD(U) | NA |
| SONI OREYA | Rashtriya Mahila Party | NA |