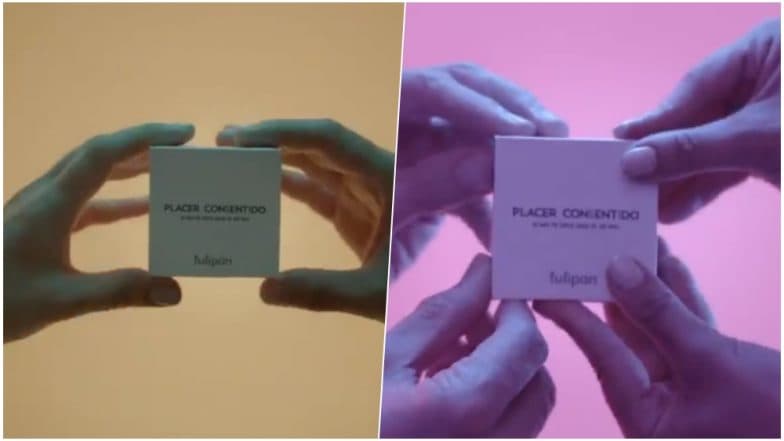 With the rising cases of sexual harassment against women all over the world, the word 'consent' gains much importance. Sexual consent has become a topic of discussion and a company from Argentina has taken a foot forward in that direction. Tulipan Argentina has introduced a consent condom which requires four hands to open the packet. It is called as the first such innovation in the world. The opening of this condom box requires two simultaneous hands which ensure, both the people are consenting to the sexual activity. While the idea seems good, people on the internet have divided opinions about practical usage. Chicken Tikka Masala to Cannabis, These Are 8 Weirdest Condom Flavours That Will Make You Glad You Came.
Tulipan is a manufacturer of sex toys and have come up with this innovative idea of 'consent condoms.' Their package reads, 'If it's not a yes, it's a no.' The marketing campaign for this condom has undoubtedly got everyone's attention. Talking about their marketing, Joaquin Campins of BBDO, the ad agency was quoted to the The Next Web, "Tulipan has always spoken of safe pleasure but for this campaign we understood that we had to talk about the most important thing in every sexual relationship - pleasure is possible only if you both give your consent." Condom Brand Durex Takes #10YearChallenge & Internet Announces It the Winner of Memes; Check Tweet.
Check Video of the Consent Condoms Which Requires 2 People to Open It:
Este pack es tan simple de abrir como entender que si no te dice que sí, es no. #PlacerConsentido pic.twitter.com/KHWyoFmg7L

— Tulipán Argentina (@TulipanARG) April 3, 2019
Meanwhile, people on the internet were not too pleased with the idea. Check how some of them reacted.
Thumbs Down!
Thumbs and ring fingers on opposite ends, with the index and middle fingers hitting the other side. The only consent you need to open this package is from both of your hands that they'll work together.

— 𝐇𝐚𝐫𝐫𝐢𝐬𝐨𝐧 𝐏𝐚𝐧𝐢𝐬𝐳𝐜𝐳𝐲𝐧 (@Paniszczyn) April 4, 2019
Shouldn't packaging be easy?
Or just tear apart the carboard packaging 😂

Also Isn't it wise to have the condom be accessible ?

A condom is usually used during consensual sex.

Not being able to open a condom packet wouldn't really stop

the person trying to have non-consensual sex.

— tre (@rp1231) April 4, 2019
Won't cut down on non-consensual sex
It's definitely a good gesture for both parties who are engaged in such activities. I think it's difficult to cut down on non-consensual sexual acts by creating physical material to restrict and prevent. A couple of years ago, "anti-rape pants" were a thing. This is positive imo.

— Mickey (@mmmickey126) April 4, 2019
Most people argued that in cases of non-consensual sex or in cases of rape,  rapists don't use condoms at all. Moreover, if the condom is so difficult to open than people would rather not buy it at all. As of now these condoms have been distributed free at certain events in Buenos Aires and will be available for purchase from next year. Well, what do you think of this consent condom, do let us know your views on this innovative product?