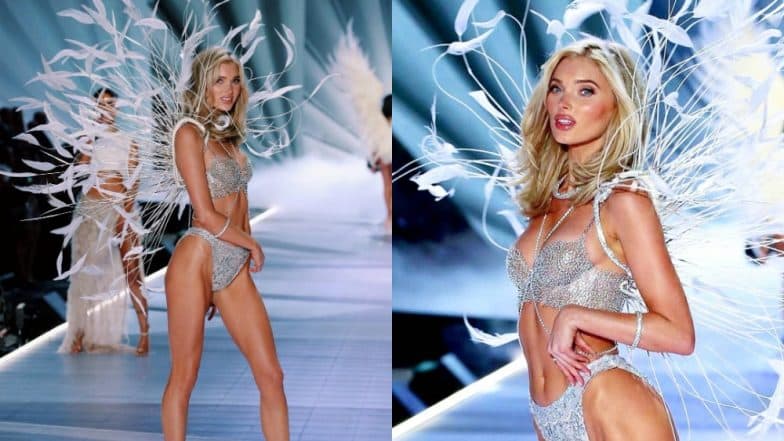 This year's bejewelled Fantasy Bra may have increased in elegance and panache but clearly had a price drop. The blinged-out bralette, which is worn by Swedish model Elsa Hosk, is valued at only $1 million. With time, the value of the bra seems to have consistently dropped. Created with over 2,100 Swarovski Created Diamonds, it took about 930 hours to innovate this bralette. The gorgeous bralette with its simple yet intricate design might not cost big bucks but it sure looks exquisite.
Speaking on the same, the 29-year-old Swedish model told People, "It was just a sensation that I've never felt before," and added, "My body was violently shaking. And it wasn't because I was nervous, I was just excited. It was a cool feeling that I've never felt before. And it was definitely a moment that I'll never forget. It's definitely the most beautiful fantasy bra I ever saw, and when I saw it I was like, 'You guys have got to be kidding me,'" Hosk gushes about the sparkling lingerie, which she says as a "'90s vibe." You can check out Hosk's looks with the Fantasy Bra on the runway of Victoria's Secret Fashion Show which was held a few hours ago.
View this post on Instagram
View this post on Instagram
Don't know about the 90s vibe Elsa is talking about but we do agree with her on the simplicity of the bralette. She said, "It's just very cool, very simple, modern, and so sparkly — If I would have designed it, it would have looked just like this. I put it on and I was like, 'It looks like someone just made magic and put it on my body.'" The previous year had Lias Ribiero don the Fantasy Bra which cost about $2 million. The year before that had a $2.5 million worth Fantasy Bra which was adorned by Jasmine Tookes.