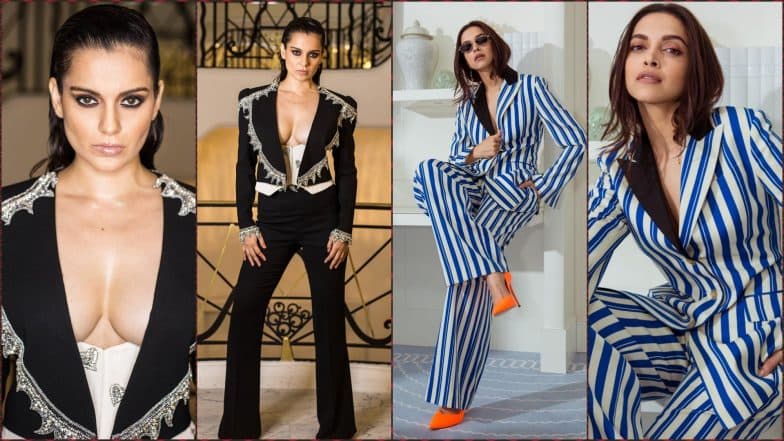 Cannes, May 17: Kangana Ranaut's bold black number or Deepika Padukone's striped style -- pantsuits gave the Bollywood actresses a fresh look at the 72nd Cannes Film Festival. Kangana, who first turned up in a traditional sari teamed with a corset and gloves, changed into an all-black pantsuit, laced with silver embellishments, for a party. Cannes 2019: We Agree With You Ranveer Singh, Deepika Padukone Looks Like a Complete 'BAWSE' in This Striped Pantsuit.
Kangana wore a fierce look as she posed uninhibitedly with a white corset she wore lending an oomph factor to the look. The ensemble was by Nedret Taciroglu Couture, and Kangana completed her look with gelled hair and heavily kohled eyes to give an edgy feature. Cannes 2019: Kangan Ranaut Goes All Out in a Bold Black Pantsuit at the After Party - See Pics!
Kangana Ranaut in Nedret Taciroglu Couture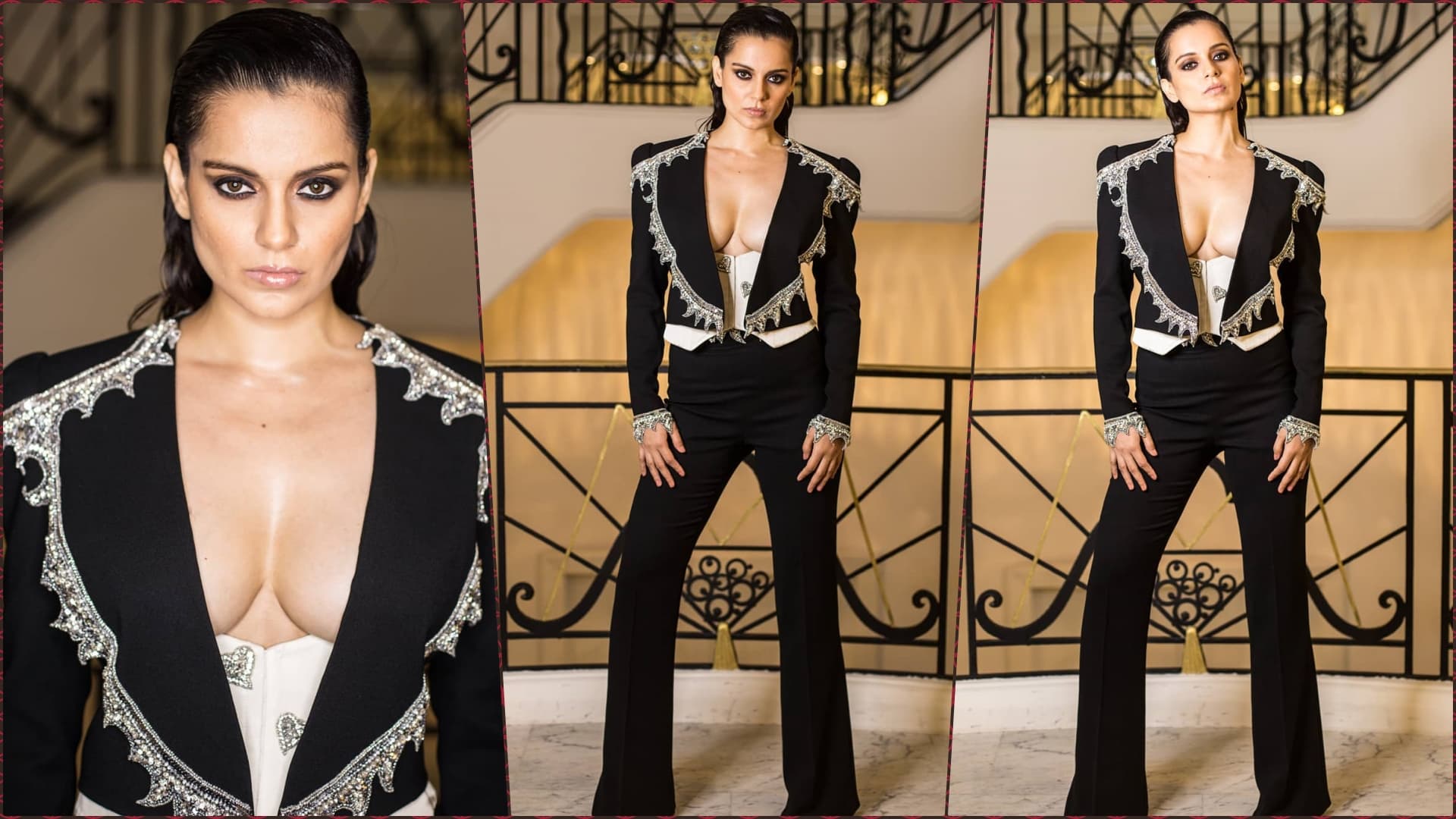 Deepika, on the other hand, chose a white and blue striped pantsuit, with her pair of neon orange pumps grabbing the attention. She looked chic in a pair of shades in an Instagram photo that she shared.
Deepika Padukone in LOEWE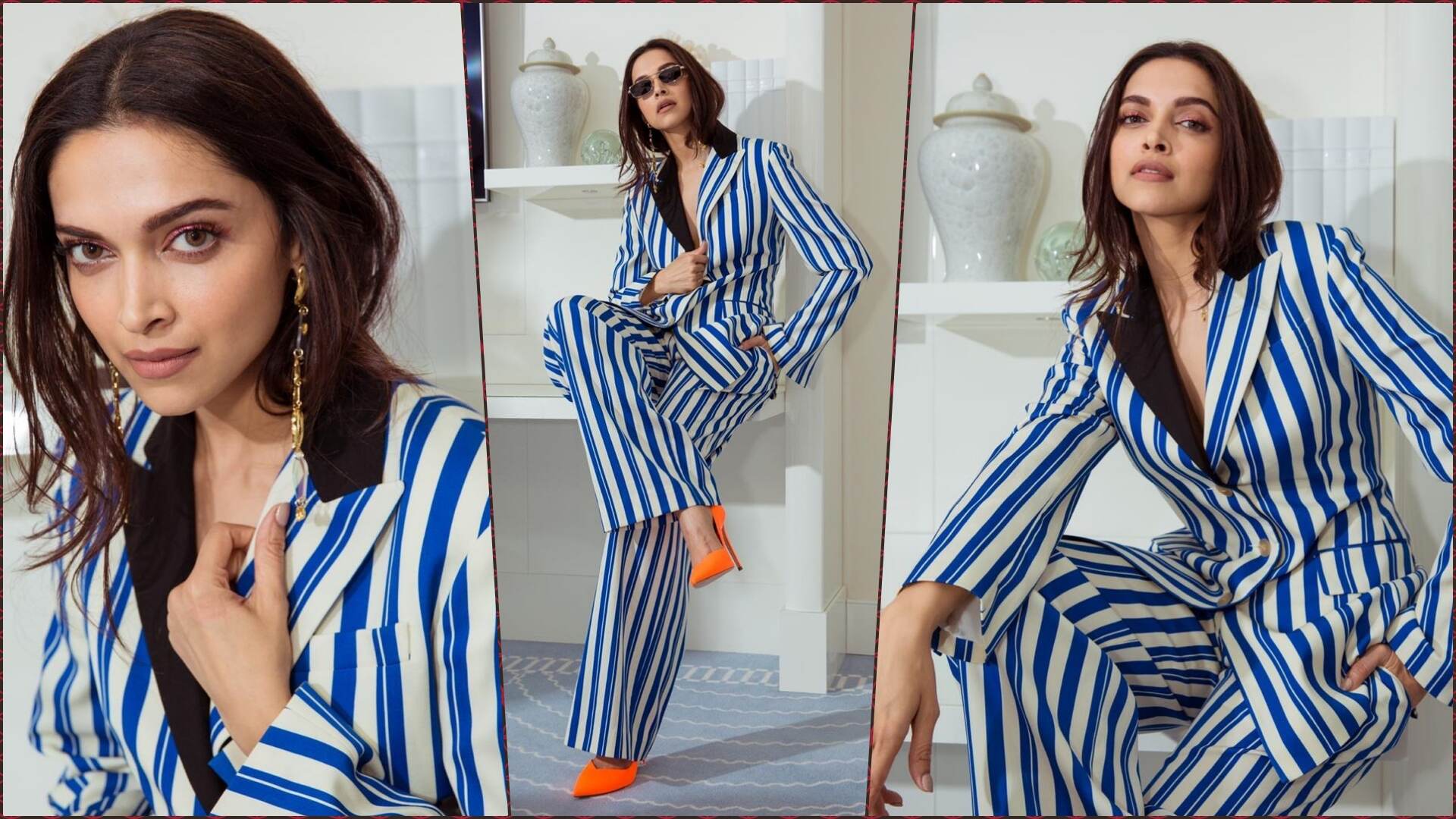 Her husband Ranveer Singh was quick to comment: "Killing it haan!" The "Padmaavat" actress has been changing multiple ensembles at Cannes. In her appearance on Thursday, she was seen in a gown with an exaggerated bow. On Friday, she wore at least four different looks. One was the pantsuit, followed by a black and neon green dress, a transparent cream shirt with high waist pants and a floral dress with a stylised neck.