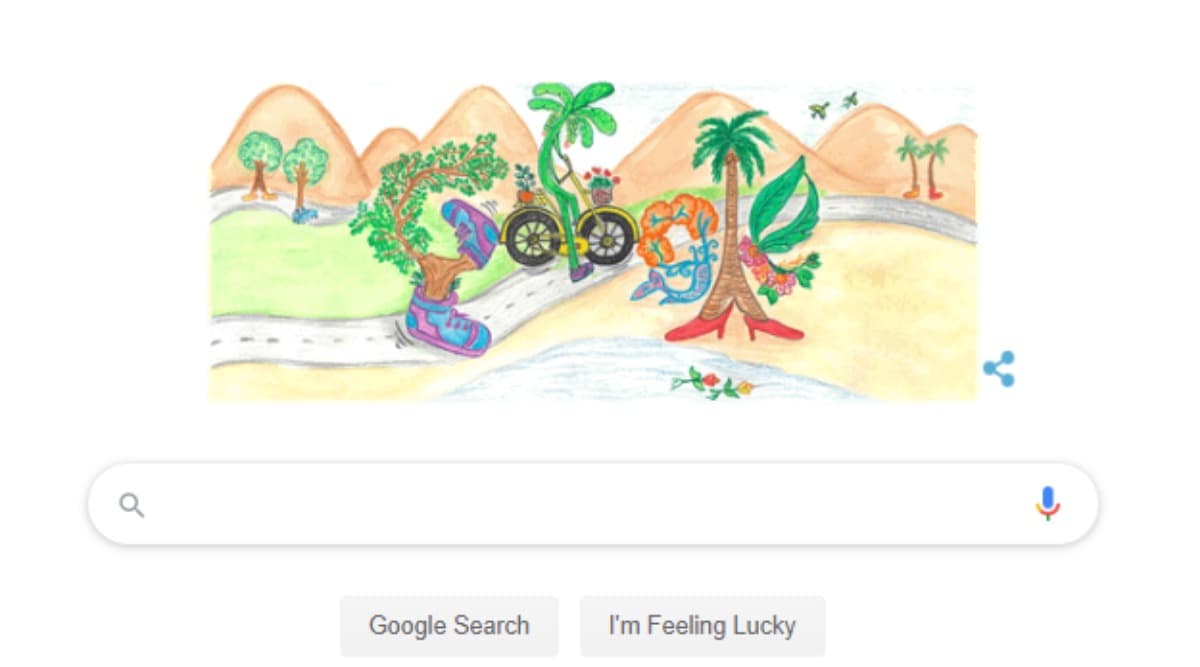 Every year November 14 is celebrated as Children's day in India also known as Bal Diwas, it is celebrated to mark the birth anniversary of India's first Prime Minister Pandit Jawaharlal Nehru, fondly remembered as Chacha Nehru. His birthday marks a remembrance of his love and affection towards the children. On Children's Day 2019, Google has featured a Doodle  titled "The Walking Tree." created by seven-year-old Divyanshi Singhal. To choose the Doodle for the Children's Day, the tech giant had invited entries from classes 1 to 10 students across India. Children's Day: Know the History, Significance and Celebrations Behind Celebrating Bal Diwas on 14th November.
In 2019, Google received submissions from over 1.1 lakh children. responding to the theme "When I grow up, I hope ..." Children sent several creative ideas for the Doodle from cleaning up the ocean, to flying solo using technology, to simply dreaming about a world without boundaries. After three months, and with participation from over 50 cities across India, the tech giant chose seven-year-old Divyanshi Singhal from Gurgaon to be the winner of the contest for her imaginative, thoughtful, and inspiring Doodle titled "The Walking Tree."
Hailing from DPS, Gurgaon, Divyanshi expressed her dismay of trees being cut down. She says, "When I grow up, I hope the world's trees can walk or fly. The land could be cleared so easily without making them die. There would be so little deforestation, and humans can just ask the trees and their friends to move to another place." Jawaharlal Nehru 130th Birth Anniversary: 7 Lesser-Known Facts About The First Prime Minister of India.
This year's Doodle for Google jury included creative masterminds such as Rajiv Chilaka (creator of Chhota Bheem and CEO of Green Gold Animation), Prajakta Koli (India's leading female YouTube Creator), Neha Sharma (famous artist and creator of Neha Doodles), and the Google Doodle team. The jury 20 finalists from 1.1 lakh entries. All entries were evaluated on the criteria of artistic merit, creativity and theme communication, as well as the uniqueness and novelty in the approach.
The 20 finalist Doodles were then showcased online for public voting. In addition to the national winner, five group winners were also selected. Over 6 lakh public votes helped us determine the following group winners for the five class groups.
On Children's Day, cultural events are organised in schools. Chocolates, sweets and roses are also distributed in schools. Some NGOs also undertake donation drives, wherein toys, clothes, books etc are distributed among underprivileged children.
The very first Children's Day celebrations began as a universal practice. A conference was being held on the general well-being of children in 1925. During this conference, an idea was expressed to have a day dedicated to children and their development. The United Nations then suggested November 20 as the date for celebrating Universal Children's Day.