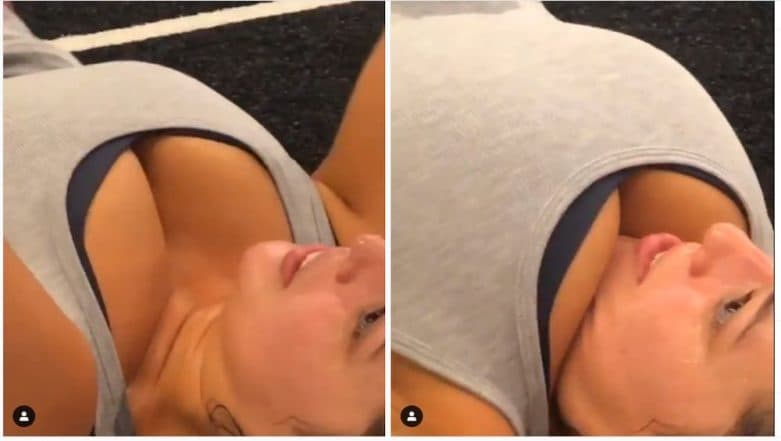 Ashley Graham is not an American plus-size model but also an activist who encourages body positivity. Not only that, but she is also a fitness enthusiast who loves to sweat it at the gym. However, not everybody works out the way Ashley Graham does. The beauty recently posted a video of hers on Instagram working out with her trainer where she can be seen nailing a series of glute bridges with weights overhead and not only that, she also shows how she sweats it out while performing the exercise. But the real star attraction of this video is her boobs and a little issue that only Ashley Graham and others like her have to face almost daily. Yeah, it is her boobs touching her chin every single rep. While she brushes it off saying: "Casual when your tits and your chin meet. Very casual," we really understand what's going on. But her trainer was soon to reply by saying, "These are things that—" but before she could complete her sentence, Ashey hilariously replied, "You don't have to worry about! I do!"- which we can very well understand! Ashley Graham Is Oozing With Sexiness in Addition Elle's Hot Lingerie Collection! Check Out Sexy Model's Bold & Beautiful Pics.
She captioned her post by saying: "I have never let my body come in the way of training and training hard. Boobs, butt, tummy - nothing stops me from moving my body and taking control of my health!"
View this post on Instagram
BTW, Cobra pose, Traveling plank, Pushup, Plank reach-under, Dumbbell chest press, Stability ball dumbbell fly, Dumbbell pullover, etc. are some of the breast firming exercises that you can try at home.