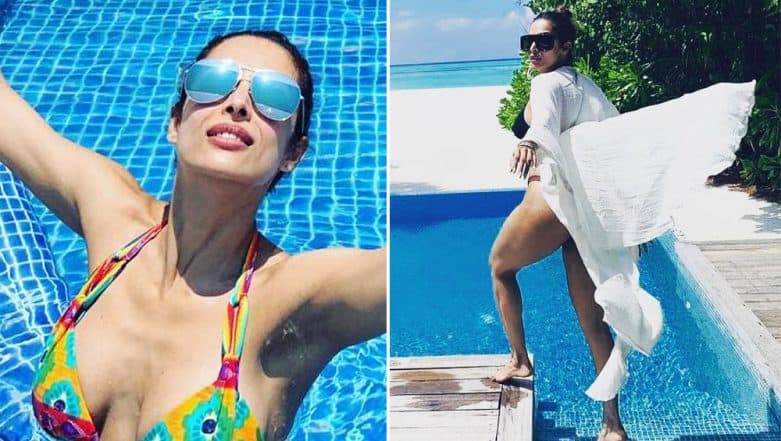 Whether Malaika Arora is on her bachelorette or not, the gorgeous actress is giving us some serious fashion and vacation goals. In the blue waters of Maldives, Malaika is raising the temperatures with her amazing beachwear. We must say, she sure knows how to flaunt her beauty the right way and probably all of us are going "Hmmm" like her boyfriend Arjun Kapoor, looking at her fabulous style. From sun-kissed close-ups to perfect Bikini-clad moments, Malaika is having the time of her life right now. Just vacationing is no fun without making some heads turn and Malla is doing just that. Every day, we wake up to some sizzling pictures of her and we bet you can't wait to take off to the Maldives looking at those.
Sun-Kissed in the Maldives:
Malaika first shared a picture of her from Maldives that saw her flaunting her beautiful tresses in a close-up shot in the backdrop of the pool. We'll be lucky if we can maintain ourselves this well and manage to look so stunning after having a teenage son. Isn't she an inspiration? Arjun Kapoor and Malaika Arora to REALLY Get Married on April 19? Here's What We Know So Far
Malaika's infinity pool moment:
Every vacation must have an infinity pool to relax in and take notes from this gorgeous lady to rock a bikini like that. In one of the other pictures shared by Malaika, she is seen all-set to take a dip in the pool wearing a lovely two-piece. We love how she chooses to take that perfect shot with her shades on.
Beach gowns never looked so stunning!
Evenings by the water deserve some glamorous looks and trust Malaika to choose the right outfit. Flowy gowns are perfect when it comes to the beach setting and we love Malaika's choice for it. She even managed to accessorize it well and what better than some red lipstick to add a dash of colour to it. Malaika Arora As A Fierce Fitness Enthusiast Or A Fashion-Forward Diva: View Pics To Take Your Pick!
Malaika flaunts her Bikini body:
Like we said earlier, Malaika has been showing off some stunning beachwear in her vacation. Her latest picture from the Maldives is sure to make you jealous. Snapped wearing a colorful bright Bikini, Malaika is seen posing in the pool along with reflectors. Thanks to all the work out she does, Malaika's perfect Bikini body is sure shot fitness goals.
Considering how most of us are dealing with the onset of the terrible Summer in most Indian cities, these pictures of Malaika Arora are sure to leave you wanting a beach vacay!