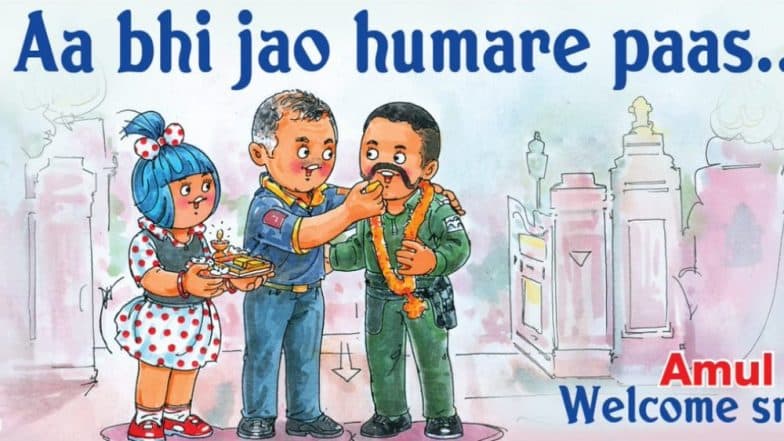 Wing Commander Abhinandan Varthaman, the pride of the nation was welcome back to India on Friday. After being captured by Pakistani authorities on February 27, the pilot was returned through Attari-Wagah border after 53 hours. As the nation celebrates the return of the braveheart, Amul has dedicated a topical ad welcoming the hero. The dairy brand tweeted the doodle with the caption, "#Amul Topical: Abhinandan returns to hero's welcome!"
The doodle reads 'Aa bhi jao humare paas' (Just come back to us now) as Amul girl, their mascot is seen standing with puja thaali in hand and a lit lamp near the Wagah border through which Abhinandan was returned by Pakistani officers. IAF Officer Abhinandan was captured by Pakistan's Army after his MiG 21 Bison went through a dogfight with Pakistani jets. A video that went viral on social media showed a group of people attacking as he was taken away from the armed forces. Before being hit, his plane shot down an F-16 of Pakistan Air Force (PAF). Wing Commander Abhinandan Varthaman's Moustache is Gaining Praises Everywhere After His Return! People Express Desire to Sport IAF Pilot's Look.
Here is Amul's doodle welcoming IAF Wing Commander Abhinandan Varthaman:
#Amul Topical: Abhinandan returns to hero's welcome! pic.twitter.com/JGtwfcUkXe

— Amul.coop (@Amul_Coop) March 1, 2019
Amul had also tweeted a doodle praising Indian Air Force (IAF) officers are they conducted airstrikes in Jaish-e-Mohammed's (JeM) camps in Pakistan.
Here is the doodle:
#Amul Topical: Congrats to our IAF pilots for their skill and bravery! pic.twitter.com/LNJ44XwWzy

— Amul.coop (@Amul_Coop) February 28, 2019
Pakistan Prime Minister Imran Khan who confirmed that the pilot was in their custody later said that Varthaman would be returned to India as a "peace gesture". Meanwhile, social media was filled with praises from celebrities and commoners alike for the officer who showed exemplary courage in an extremely stressful situation. Earlier today, Defence Minister Nirmala Sitharaman met the officer at a Delhi hospital where is undergoing "cooling down" process. Prime Minister Narendra Modi also welcomed Abhinandan appreciating his courage.