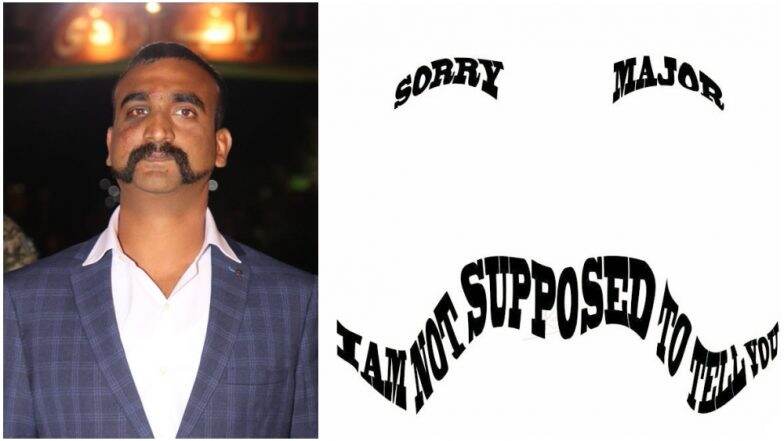 The return on Wing Commander Abhinandan Varthaman from Pakistan was one of the most important moments the country waited for. As soon as the IAF pilot crossed over to the Indian border, there was joy and jubilation everywhere. The braveheart returned back with a smile on his face and one could not miss his well-kept moustache. The internet is in love with his look and it would not be a surprise if it becomes the next trend among men's fashion. People on Twitter along with lauding his bravery were all praises for his Tamil moustache, many even expressing to sport it. IAF Wing Commander Abhinandan Varthaman Returns From Pakistan Via Attari Wagah Border; India Celebrates; See Pic & Video.
Everyone was glued to the news of Abhinandan Varthaman's return in the country. And his first visuals of a smiling face has cast an impression on everyone. He was held captive in Pakistan on February 27. One cannot even imagine the hardship and emotional trauma he must have been through. So when he came back with a smile it showed a relief. His moustache was, however, an equally bigger hero for some on the social media space. Soon as he returned and the first visuals came out, people could not stop talking about his gunslinger moustache. Video of Wing Commander Abhinandan Varthaman 'Dancing' With Pakistani Army Personnel is Fake!
Watch Video: IAF Wing Commander Abhinandan Varthaman Returns to India
It was a moment everyone waited for and it was one of the happiest days for any Indian. Abhinandan too expressed that it feels good to be back. All said and done, people cannot get over his moustache.
Check Tweets Praising IAF Pilot Abhinandan Varthaman's Moustache
Pilot + Moustache Released
Captured Indian pilot + his mustache released, officially crosses border from Pakistan to India. pic.twitter.com/snBM4qAuuY

— ian bremmer (@ianbremmer) March 1, 2019
Casting An Impression and How!
a design copy for #WelcomeBackAbhinandan 🇮🇳 pic.twitter.com/2rK4E1jskZ

— tahauddin (@realtahauddin) March 1, 2019
Setting a Trend Already
Wanna grow a moustache like IAF Pilot Abhinandan Varthaman!!!

— দেবর্ষি দাশ (@debarshi_taki) March 1, 2019
Wing Commander Abhinandan Varthaman's moustache will soon become the new style statement for many. #WelcomeHomeAbhinandan

— Prakash Chandra Hota (@PrakashHota) March 1, 2019
Moustache Maintenance on Point
Full marks to Indian pilot, Abhinandan Varthaman, for excellent moustache maintenance while captured. pic.twitter.com/xlb2v37tW8

— Scott Pack (@meandmybigmouth) March 1, 2019
Moustache of The Hero of India
Wing Cdr Abhinandan Varthaman!

The moustache fits the hero of India.

Salutations & Abhinandan !

Welcome Home. You made India proud. Abhinandan again.

— Bholanath Acharya (@bnacharya1) March 1, 2019
No Getting Over
Cannot get over the Indian pilot's mustache pic.twitter.com/cVdG46p9Ot

— Ke円ha (@rcticocean) March 1, 2019
Branding It!
A typical Tamil true hero moustache. Fits India's hero Wing Cdr Abhinandan well.

Now can befittingly branded Abhinandan Varthaman Moustache.

— Bholanath Acharya (@bnacharya1) March 1, 2019
I hope @GilletteIndia have signed up Wing Commander Abhinandan Varthaman for an ad - all good pilots should sport a handlebar moustache pic.twitter.com/q12wr0oEx2

— Mark Hillary🏃🏼👍🏻 (@markhillary) March 1, 2019
So people are indeed going gaga over his moustache. A typically Tamil moustache as some people have called it will soon become a style statement, no doubt. So be ready to see men sporting a Tamil gunslinger soon.