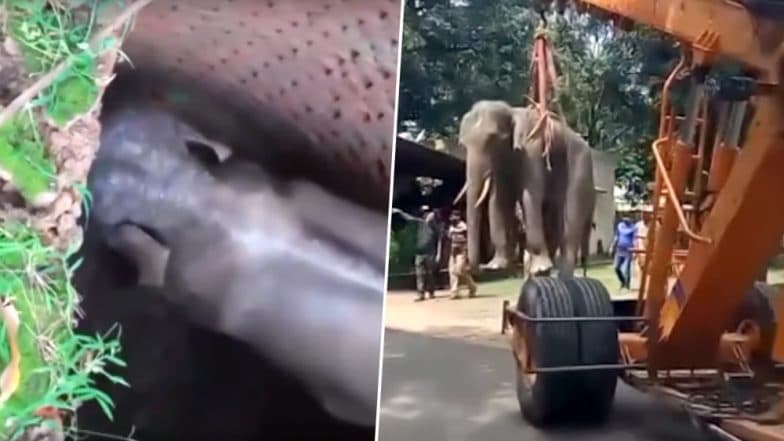 Baby elephants are often playful animals but nobody wants to see them get stuck and wailing. However, this little baby elephant who fell into twenty feet well in Jalpaiguri, West Bengal, India, was rescued well and the heart-warming video of him coming out of the well and going home is making people emotional. The rescuers managed to harness the animal out of the well by a crane. The military, who spotted them first, used help from the Burdwan Forest Department and together completed the mission successfully. The officials said that they would keep the elephant under supervision for sometime before it is ready to be released into the wild. The whole scene of rescuing the baby elephant was captured in a video that is now going viral. Timely rescue of the baby elephant has helped it finally get into the wild but not before a close check on him for his well-being. This reminds us of the viral story of Villagers in Thailand Helping To Rescue Baby Elephant From the Well, Check the Heart-touching Video.
It is not known how the baby elephant fell into the Jungle well, but his wails for help was first heard by army officials who got into action really soon. In the video, you will see that a huge crowd has turned up to check out the stuck animal and some can even be seen throwing food at the elephant. It is said that the elephant lost its way from the Bishnupur jungle and managed to accidentally fall into the well. The rescue mission took place close to the Panagar army camp. Baby Elephant Nudging Man to Play With It Will Hit You Right in The Feels (Watch Video).
Take a Look At The Elephant Rescue Video:
A similar incident took place in Guwahati city, in Kamrup district of Assam area where a baby elephant after it fell into the Deepor Beel freshwater lake was rescued by a team of National Disaster Response Force (NDRF) and state forest department.