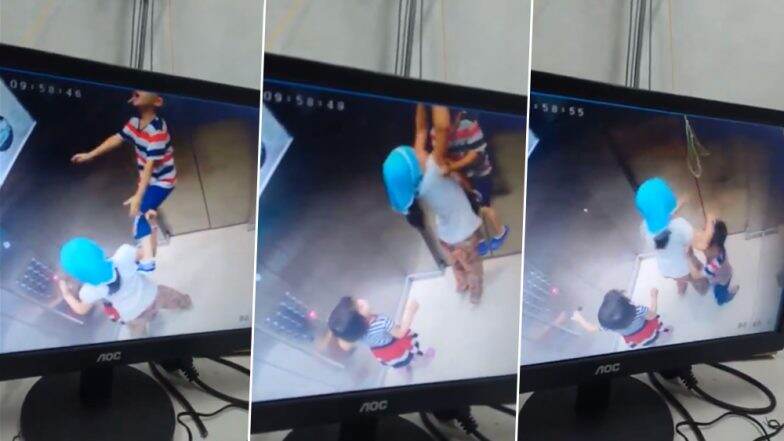 A heart-stopping moment has been captured in a surveillance camera inside a lift. The video reportedly from Istanbul shows a young girl who saved her brother from getting strangled in the elevator. The little one's presence of mind is going viral on Twitter, and people are praising her quick effort. The clip has got thousands of views online, with comments flooding in for the young girl. However, some questioned the kids' parents who were nowhere to be seen while the unfortunate incident happened. Best Brother Ever! This Video of A Brother Encouraging His Sister to Play Basketball is so Heartening. 
The viral video begins with three kids; two girls and one boy entering into a lift. After the doors closed, a rope inside the elevator was trapped. The boy twisted himself around the rope. As the lift went up, he was pulled into the air, causing suffocation. The elder girl was patient enough, pressed the alarm button, while trying to unsettle the rope. The other one was shockingly watching the dangerous situation. Soon, the boy was able to unravel himself from the string.
Watch the Viral Video
Such presence of Mind and Intelligence, This small girl is hero pic.twitter.com/Wdd8BH6HUr

— हरजीत (@IHarjeetR) August 17, 2019
Twitterati in Praise
Omg!! I had to see it again to figure out what she did.. hats of to her for her presence of mind & especially for staying calm

— Rosy (@rose_k01) August 17, 2019
Emergency button takes the elevator to that floor which is closest. Fortunately bcoz of extreme presence of mind that girl pressed the emergency button before elevator could go towards next floor.

— Amya (@amol_hindu1st) August 17, 2019
Wow what a presence of mind applied by this young girl! 👏👏👍👍👍

— Rajesh B. Patel (@RajeshBPatel14) August 17, 2019
Some Even Questioned Their Parents
"Never leave children unattended in the lift" is written almost everywhere. Irresponsible parenting.

— Kachraa (@choo_ke_daur) August 17, 2019
The video has gained thousands of views and reactions online. It was a miserable situation, and the girl was indeed fearless and smart to save her brother. Not much information was immediately available. However, local reports stated that the child is fine and is recovering after the incident.