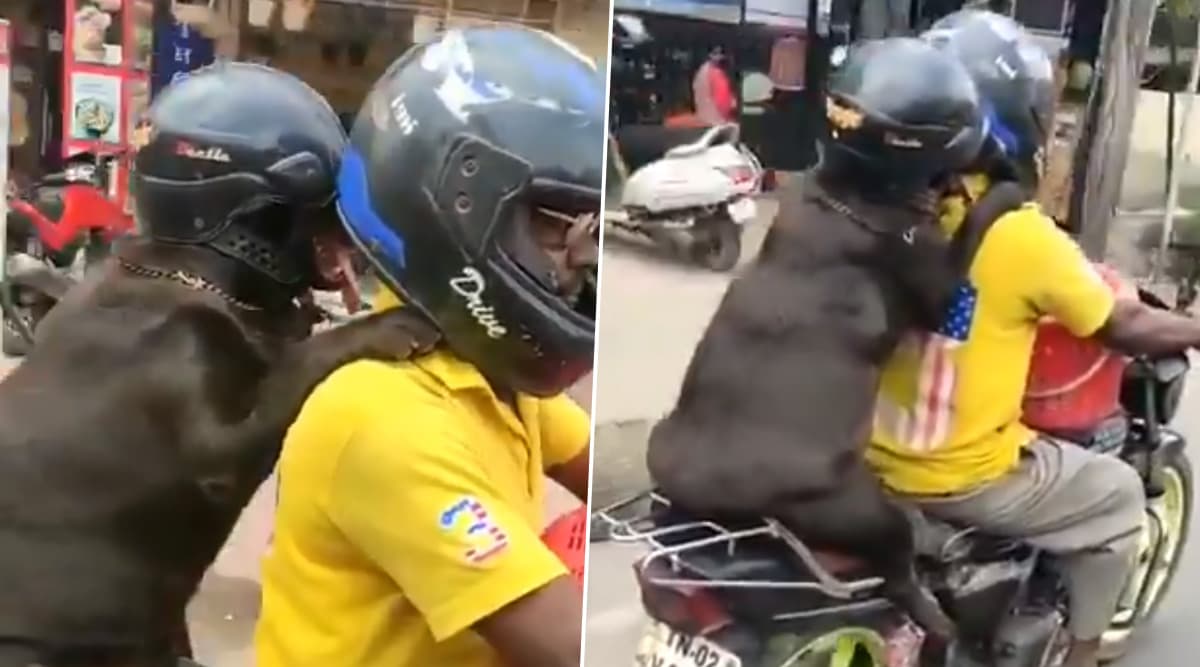 The internet has so many amusing animal videos and pictures coming up every day. Now a video of a dog riding pillion with its owner and wearing a helmet is going viral. In the video, a dog is seen sitting on the back seat of a bike like a regular human and is wearing a helmet. The video is apparently from Tamil Nadu. This video is going viral, however, people are not as impressed, as it still puts a lot of risk for the dog to take a ride on the bike in this manner. So while some have loved the video, others were concerned about the safety of the dog, irrespective of him wearing a helmet. Viral Video Shows Man Carrying Family of 7 People, 2 Dogs and 2 Hens on His Bike! Twitter is Cheering This Jugaad.
The video was shared on Twitter by a user named Pramod Madhav. Within a day, this video has got over 50,000 views. It shows a dog comfortably riding pillion, with two of his paws on the owner's shoulder. While the owner has also worn a helmet, his pet has donned one too. It is amusing to see them ride together, but it still puts the dog at risk as there is no real support for him. Netizens expressed the same concern. The biker has kept a basket in the front, which he has to balance as he rides. Dog is a Man's Best Friend: Video of a Loyal Dog Protecting His Drunk Owner Will Melt Your Hearts.
Watch Viral Video of Dog Wearing Helmet on Pillion Ride:
Dog wearing helmet for safety in Tamilnadu..

Really admiring the owner's care..❤❤ pic.twitter.com/pmEvwf2Dq4

— Pramod Madhav (@madhavpramod1) January 7, 2020
A Dog Shouldn't Ride Like This...
Lol a dog must not even ride a bike in the first place. 😃😂

— Sambath Kumaar (@sambath92kumaar) January 7, 2020
The dog should not be a pillion in first place

— Paresh Chhajed (@Sparsh85) January 7, 2020
So Lovely?
So heartening and lovely

— Sahar Zaman (@saharzaman) January 7, 2020
This is a Gimmick!
Pretty sure the helmets are not designed for a dog's head. Should call this a gimmick.

— Badri Rama (@badri_rama) January 7, 2020
Or Some Mockery
Is it not a mockery?

— Natarajan Kannaiyan (@pushnataraj) January 7, 2020
Life is Endangered
Absolutely. He's endangering the poor animal's life. Apart from the dog he has to also concentrate on balancing the basket in front.

— Alfa Shenoy (@AlfaShenoy) January 7, 2020
Not The Correct Way to Travel
This is not correct method to travel with pet animals.

— KangeyanD (@kangeyan50) January 7, 2020
So not many were as impressed with the dog's way of riding as a pillion so comfortably.