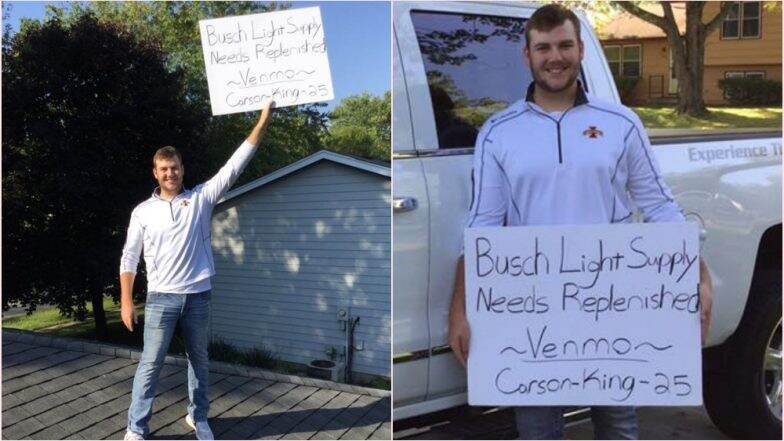 Carson King, being the ESPN College Football fan, never have imagined that his crudely drawn request for "beer money" would turn into such a fundraising effort. Standing in the front row and holding the sign that read, "Busch Light Supply Needs Replenished," the 24-year-old was in for a surprise. Thanks to social media, King's plea was heard by thousands of people, and his Venmo account quickly hit $600 (Rs 42,500 approx.). It was then when after speaking to his parents, King decided he could turn his plea into a fundraising effort. He announced that his plea had raised $1 million and the amount will be donated to Iowa Stead Family Children's Hospital. King has been going viral for a few days now. Know more about his inspirational viral story. YouTuber Felix Kjellberg Raises Over Rs. 1.3 Crores for Indian NGO CRY in a Day. 
"I thought it would just be a joke. I didn't think anyone would actually see it," King told Good Morning America in an interview. It was on the heavily anticipated Iowa vs Iowa State football game. Millions of eyes across the nation saw the former Iowa State student. In the same interview, he revealed that he received 2,000 notifications within an hour. On September 14, the 24-year-old said that his Venmo account hit $600 and that he decided to donate the amount to Iowa Children's Hospital.
Here's the Tweet:
With all the donations my @CollegeGameDay sign for @BuschBeer has received, I will be donating all but enough for a case of Busch Light to @uiowa Children's Hospital. We're at over $1,600.00 right now! @CycloneATH @WideRtNattyLt @ChrisMWilliams Venmo Carson-King-25

— Carson King (@CarsonKing2) September 14, 2019
Busch Beer Was Inspired Hearing His Initiative:
.@CarsonKing2 this is the best thing we have read all year, we're inspired.

We're going to match your donation to University of Iowa Hospitals & Clinics, and we'll throw in some of that Busch Light you were looking for. https://t.co/NPPrPp6zJg

— Busch Beer (@BuschBeer) September 17, 2019
And So is Venmo:
We see a lot of great stories, but this is one of our favs @CarsonKing2. Count us in for matching the donation to the hospital, too. #ftk💛@BuschBeer @CollegeGameDay https://t.co/thS8JXOXC3

— Venmo (@venmo) September 17, 2019
He did not close his Venmo account. And so far King raised $1 million.
WE JUST REACHED A MILLION IN TOTAL CONTRIBUTIONS @BuschBeer and @venmo Let's goooo! We're not done yet! @UIchildrens what do you think!? #ForTheKids

— Carson King (@CarsonKing2) September 22, 2019
Watch King's Interview:
King's once humorous endeavour had transformed into a significant fundraiser for the children's hospital. We all are so proud of King and everyone who decided to shower their love. The 24-year-old added that people had sent him everything from 25 cents to $300. It is a substantial effort, and we hardly get opportunities to report such generosity. King's Veneno amount will remain open until the end of September, 2019. So, you have enough time to participate in the good cause for the kids of Iowa Hospital.