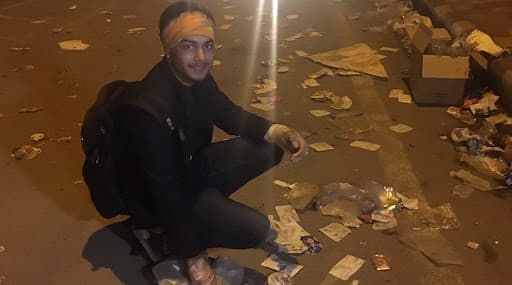 New Delhi, December 17: Students and alumni of Jamia Millia Islamia (JMI) University were seen cleaning up the streets after their protests opposing the Citizenship (Amendment) Act on Monday. Videos shared on social media showed the students participating in the clean up drive in chilling Delhi winter on Monday night. The clip of the students picking up litter and leftovers after the protests won hearts on Twitter, after it was shared by several journalists covering the protests. Jamia Millia Islamia Protest Against Citizenship Amendment Act Draws National Attention: What We Know So Far.
The students of Jamia Millia Islamia (JMI) staged protests for the second day in a row, after Sunday night saw the Delhi Police entering the campus of the University. The University administration alleged that Delhi Police entered the premises of JMI without permission and attacked the students. On Monday, protests were held across the nation as students from various universities marched in solidarity with students of Jamia University. The below video shows that despite the protests, some of the students returned back to the protest site and cleaned up the road.
Here's the YouTube video:
Among many praises and accolades, one of the most heart warming came from Sahil Murli Menghani, who is also a correspondent for CNNNews 18. He took to Twitter and shared a video of the students cleaning the site of agitation.
Check the Tweet Below:
Finally, some heart-warming visuals I have been sent from #Jamia. #JamiaMiliaIslamia students & alumni CLEANING UP the streets after today's protests 👍🏻#JamiaProtests #SwachhBharat @CNNnews18 pic.twitter.com/iFKy88MxPV

— SaahilMurli Menghani (@saahilmenghani) December 16, 2019
Another tweet also comes from a correspondent, who showed a student collecting the mess. In her tweet, journalist Zeba Warsi wrote, "Protests will resume tomorrow morning."
See the Below Tweet:
18 year old Faisal is my Hero of the day ♥️

He is cleaning his campus along with some other students like him after another day of protests.

Protests will resume tomorrow morning.#JamiaMiliaIslamia #CABProtests pic.twitter.com/xCiWN3cJbw

— Zeba Warsi (@Zebaism) December 16, 2019
Apart from journalists, common netizens too chose to share the video on their social media handle.
Twitterati Lauding the Effort:
After protest

In 12 degrees temperature

Students are cleaning the roads ..#sosjamia#JamiaProtests #sosAMU @ndtvvideos @ndtvfeed @TheQuint @ThePrintIndia @TheDeshBhakt @kanhaiyakumar @swachhbharat @JamiaMillia @Mdzeeshanayyub pic.twitter.com/Gf4hAfTSM2

— Danish Siddiqui (@DanishS62793279) December 16, 2019
It is to be known that violence in Delhi erupted on Sunday afternoon, when a section of protesters in the march led by Jamia Millia Islamia students allegedly resorted to violence. Following this, the miscreants burnt down four buses and vandalised over a dozen vehicles. Fire brigade personnel who were rushed to the site were also allegedly pelted with stones by the infuriated mob. However, these videos are creating a hope among the citizens that there are sensible heads around who known how to win hearts with love even in tense atmosphere.