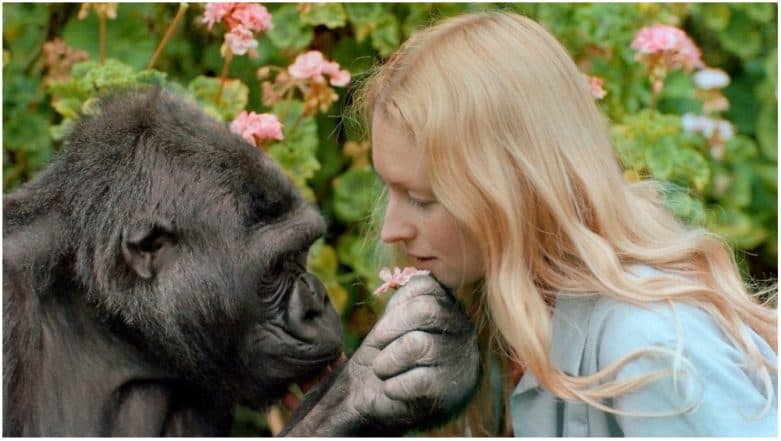 Koko, the western lowland gorilla who learned to speak sign language which endeared her to fans around the world, died in her sleep on Tuesday morning at the age of 46, according to The Gorilla Foundation (TGF), the non-profit gorilla conservation organisation responsible for her care. "Koko touched the lives of millions as an ambassador for all gorillas and an icon for interspecies communication and empathy," TGF representatives said in a statement. "She was beloved and will be deeply missed."
Born on July 4, 1971 at the San Francisco Zoo, Koko was originally named Hanabi-ko, which translates to 'fireworks child' in Japanese – a reference to her birthday falling on the Fourth of July. When Koko was about one year old, she started learning sign language from Dr. Francine 'Penny' Patterson, who remained her trainer throughout her life. Her extraordinary comprehension of spoken English and her capacity for sign language – which included a vocabulary of more than 1,000 words – brought the attention of the world to endangered gorillas and helped to raise awareness about gorilla conservation for decades.
For her birthday in 1985, researchers brought Koko a litter of kittens and let her choose one, seeing her affinity towards them. Koko chose a gray and white kitten that she named 'All Ball'. She treated the feline like one of her own and carried it around like a baby. Unfortunately, All Ball tragically died in a car accident six months later and Koko's reaction stunned the researchers. She started whimpering – a distinct hooting sound that gorillas make when they are said, as reported in LA Times.
Koko, When She Clicked Herself in the Mirror
Koko the gorilla, pictured here on the October 1978 cover of National Geographic, has died at 46. pic.twitter.com/DlHANqVYlE

— National Geographic (@NatGeoMag) June 21, 2018
Koko also became a household name in 1978 when she took a photo of herself in the mirror that appeared on the cover of National Geographic and the public embraced her fondness for cats and her ability to interact with humans through sign language. She again appeared on National Geographic in 1985.
Koko in National Geographic in 1985
Koko, the gorilla known for sign language, has passed away at the age of 46. Here she is on the cover of the 1985 National Geographic. #RIPKoko 🦍 pic.twitter.com/U95wNsGdWy

— Nat Geo Channel (@NatGeoChannel) June 21, 2018
Wild gorillas typically live for 30 to 40 years, while those cared for by humans can live into their 50s, according to the Smithsonian's National Zoo and Conservation Biology Institute. Western lowland gorillas, like Koko, are a critically endangered species. Koko is survived by her current partner, named Ndume who was brought to TGF in 1991 and whose communication is limited to 'natural gorilla gestures and vocalisations', according to TGF.