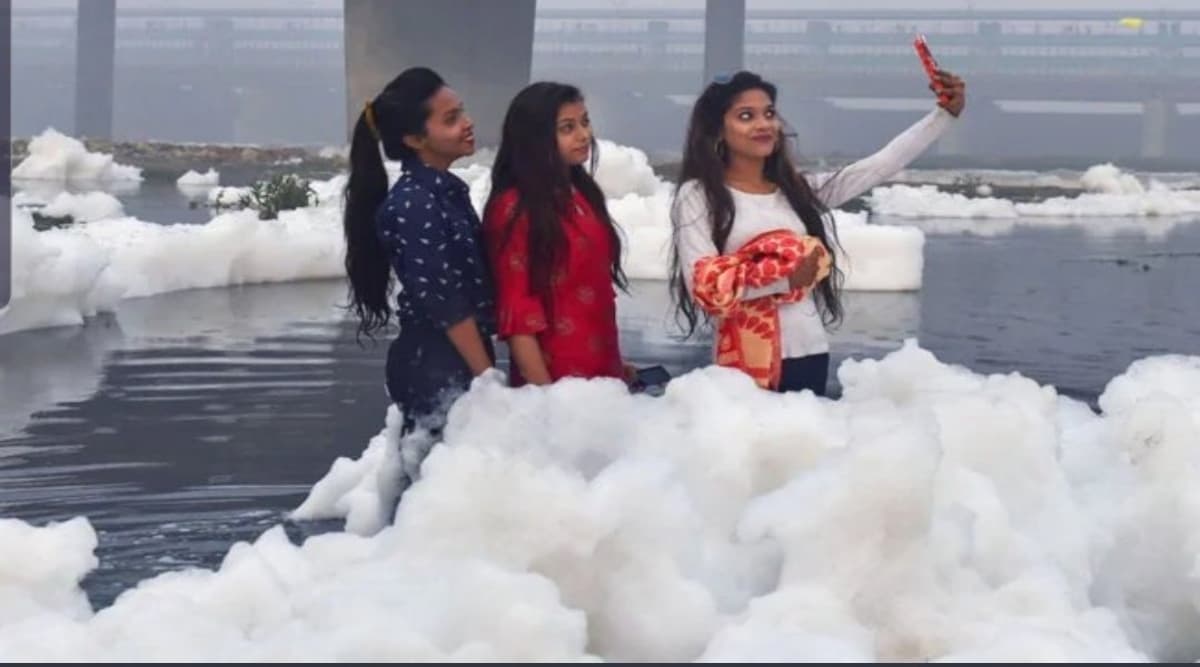 The air pollution in Delhi is already a major cause for concern and now, the Yamuna, a major source of water for the city, is polluted too. Pictures of toxic foam accumulated in the Yamuna river are all over social media. Women were seen performing a Puja on the occasion of Chhath Puja. While that itself was shocking, there is another picture of three girls clicking a selfie in the same foamy waters, which is going viral. The trio is being mocked for their stupidity and netizens are shocked at the thought of clicking a picture in the toxic waters.
For the uninitiated, Yamuna river is in the news after pictures of women performing the Chhatt Puja at the river, wading through knee-high foam went viral. While the pictures were shocking, the recent selfie of the three girls playing with the foam, as if they are at a tourist spot, is equally upsetting. Netizens haven't taken too kindly to the pic and the trio is getting trolled. Newspaper Hawkers Take Charge of Cleaning Yamuna River Banks in Delhi.
Check The Tweets Here:
Education is Important
The reason why education is important pic.twitter.com/tmJ327oTlJ

— SwatKat💃 (@swatic12) November 5, 2019
New Selfie Backdrop
The new selfie backdrop in India. Stand in the toxic foam of a dead Yamuna for a backdrop that looks like a surreal paradise, for a "straight out of heaven" feel.#Yamuna #pollution #india #toxic pic.twitter.com/Aw1QtqlPAX

— Deepali Nandwani (@NandwaniDeepali) November 4, 2019
New India?
The New India.

Young devotees talking selfie during Chat Puja standing in knee deep toxic chemical foam in Yamuna river in Delhi. pic.twitter.com/noVoTRFvDL

— Soumyadipta Roy 🇮🇳 (@soumodiptoroyy) November 4, 2019
Delhi or Manali?
Naali k bich selfie leti Hui manali k maze hai!!! #whatswrongwiththisgeneration #Yamuna pic.twitter.com/THW44anhgg

— mahendra (@OMaddy2593) November 5, 2019
Or Switzerland?
South Delhi Girls taking pic in Yamuna to post on Instagram with caption, "Snow all over, Switzerland is amazing". pic.twitter.com/sMab0XJXvq

— Pakchikpak Raja Babu (@HaramiParindey) November 6, 2019
This is not the only picture from Chhath Puja celebrations; there were few others too. Yamuna river has unfortunately become one of the most polluted rivers in the country. There have been several plans to clean it up but not much has been done. Given the rising toxicity of these waters, there needs to be strict action and implementation to reduce pollution levels.