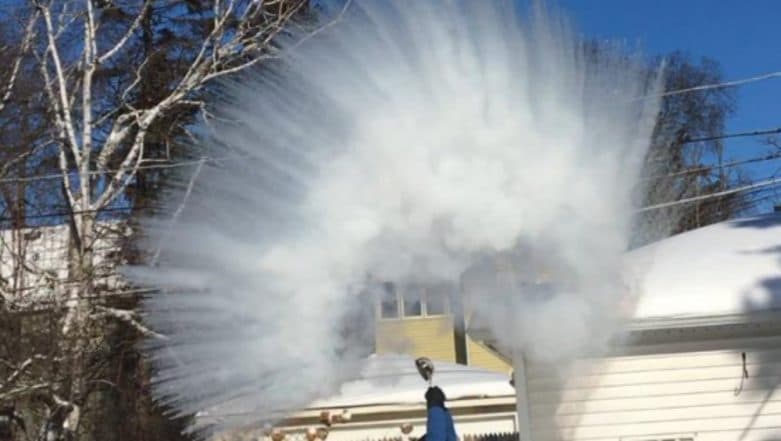 It is too cold in parts of the American Midwest. A split in the polar vortex brought arctic temperatures and icy winds, making it difficult for the residents to lead their regular day to day life. It is so cold that rail workers in Chicago are reportedly lighting train tracks on fire to keep them functioning, so cold that the National Weather Service is warning people to avoid taking deep breaths outside, so cold that the pets are advised to stay inside strictly. It is also so cold that people are throwing boil water out in the air, which almost turns to ice when exposed to the wind because of the exceedingly low temperatures. Social media is now filled with "Boiling Water Challenge" videos. Polar Vortex Turns Woman's Wet Hair Into Ice As Cold Cripples the Midwest. 
The dangerously cold water has continued to shatter records across the Midwest. Schools, businesses and government offices are reportedly close. Misery loves the company! As the polar vortex has gripped the region, some people have ventured outdoors to take videos and pictures of the sub-zero temperatures. The boiling water challenge videos are the best of all. The boiling water solidifies when thrown into the air. Here's How -50 Degrees Feels Like in Chicago and Other Cities in the US. 
Throwing Boil Water in -40 Degrees
A Closer Look
He Just Brought His Own Spin to the Game With a Water Gun
Or as we call it in Minnesota...Tuesday

Embraced my inner 6 year old at -33F earlier today pic.twitter.com/5P3Ht3WWy3

— Andy Potter (@stalefarts) January 30, 2019
Chicago Dubbed As Chiberia
had to do it #chiberia #chicago #Chicagoweather pic.twitter.com/qcg3BUaAz9

— poopinyeti (@poopinyeti) January 30, 2019
Cold air is so dense that there is not enough room for the water vapour in steaming water. It somewhat clings particles in the air and forms snow. However, the challenge is risky, so be careful while indulging into the viral social media challenge.
The situation in the Midwest is dire. According to media reports, at least 21 people have died across the country, and hospitals have reported hundreds of cold-related cases. It is speculated that some areas of the Midwest would warm up dramatically by the weekend.