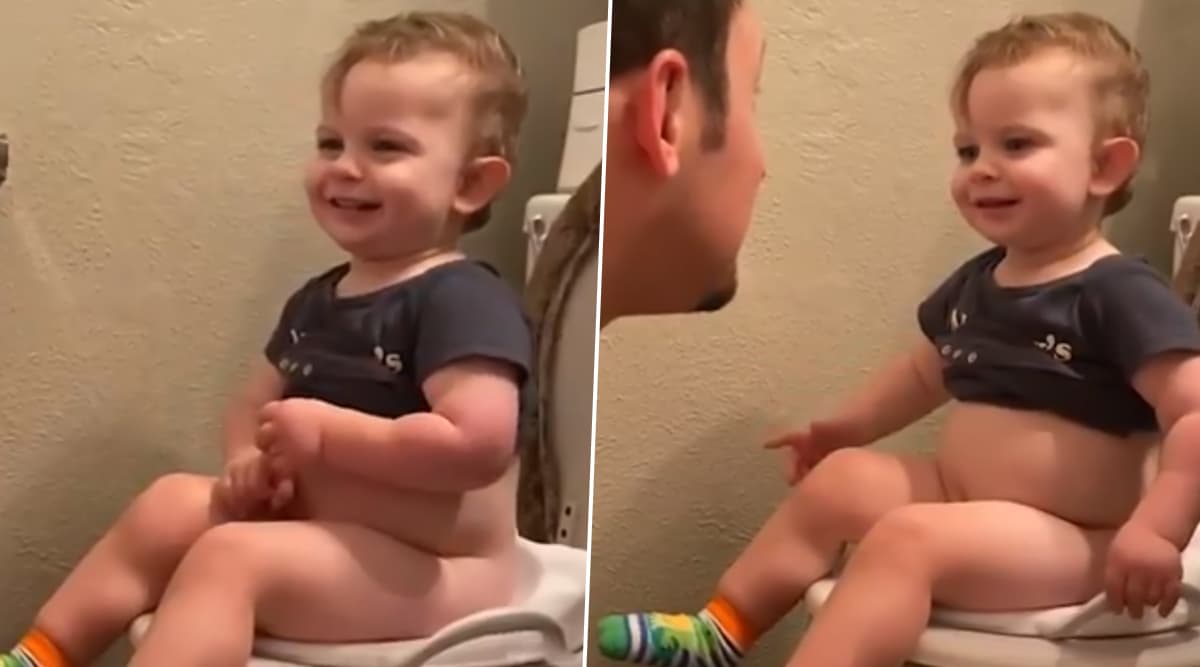 Potty-training, a toddler, is no easy task! Training a toddler how to use a toilet and be independent while using a washroom could be a daunting task. But it turned out to be hilarious for this father who could not control his laughter after his kid lying on his face while doing his business! While getting potty trained, the toddler defiantly told his dad, "I didn't poop, I peed," even after having just pooped. The adorable video has garnered millions of views on social media sites leaving the internet users in splits. Seeing the naughty tod blatantly lying to his dad will make you laugh out loud and maybe pee a little out of laughter! Baby Shark Videos With Little Kids Are Going Viral on the Internet and Here Are Some of the Cutest to Make Your Day!
Dani DeVito shared a video of her son Matt and husband, Greg. The clip captured the moment of the two-year-old gaslighting his dad, which earned him viral fame instead. When father Greg asked his son repeatedly if he pooped, Matt denies, denies, denies. "Wait you didn't poop?" asks Greg to which the mischievous toddler respond, "No, I peed!" His father could not stop laughing; neither can you after watching the video. Baby Talking in Gibberish Complaining About His Mom Leaving For Work Without Giving Him Goodbye Kiss is Hilarious; Video Goes Viral. 
The denial goes on for a while as Matt grows more and more adamant that he did not poop. It was enough for Greg to start crying out of laughter, which causes concern for the kid. "Are you sad daddy?" Matt says, reaching out to his dad for a hug. Greg replied how he is trying hard not to laugh that is making the tears come out of his eyes. "You're funny, you're a really funny guy," says Greg.
Watch the Viral Video:
You can see, for a moment, Matt did admit that he pooped. But the moment his dad wipes away his tears, Matt picks up his game again! According to reports, the original video has gained more than 17 million views. It is too cute to miss! Such videos unquestionably come as a blessing to the internet users, and we would love to see more of it.