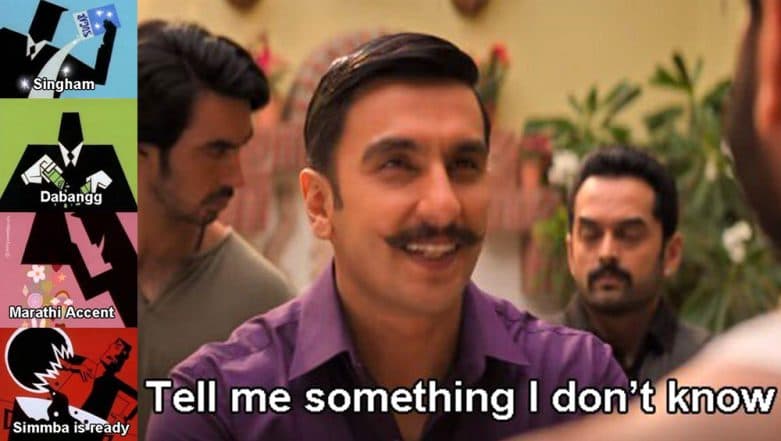 Ranveer Singh and Rohit Shetty came together to give the most predictable story of the century through Simmba. We already know what's on the plate, thanks to the give-it-all-away trailer that released today. With only one dialogue reserved for the otherwise sharp Sara Ali Khan, the trailer has a major Singham hangover. Wait, why call it Singham hangover when there is Singham (Ajay Devgn) in the film himself as well? Anyway, moving on further, as expected the meme makers found their food for the day. Simmba Advance Ticket Booking: Ranveer Singh-Sara Ali Khan's Film Uses This Smart Tactic That Should Worry Shah Rukh Khan's Zero!.
Memes have become the inevitable part of the movies and the netizens have made peace with it. However, the memes on Simmba were actually funny and relatable and probably more entertaining than the trailer. Ranveer's dialgoue 'Tell me something I don't know' is the new favourite meme on the internet and rightly so. Check them out here.
No Smoking!
You Know What to Say Next Time...
That Fake Friend!
Kamina Employee, Are You?
Specially Reserved for Over-Ambitious Engineering Students!
Tag That Friend
Funniest of All!
Simmba Trailer
Simmba is getting compared to a lot of movies from the past due to the lead character. We wonder if the film is made only for a visual treat to fans as that department has been handled well by the makers, tbh. One thing we are glad of is that destiny helped Sara by making Kedarnath her debut movie and not Simmba! Produced by Karan Johar, the film is said to be the adaptation of hit Telugu film named Temper. It is slated to release on December 28 this year. What is your take on the trailer? Also, don't be hesitant to share your own creative memes with us too, if there are any!