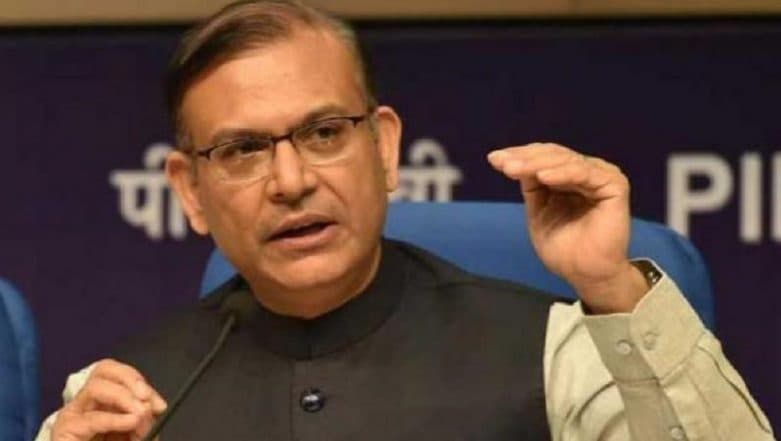 New Delhi, November 21: When generally ministers, MPs and people in power prefer following the VIP culture during flying and often end up fighting crew, Union Minister Jayant Sinha shun it and set an example for other flyers. Jayant Sinha's humble response to an air hostess when she refused to change pre-booked meal won hearts after his co-passenger shared the incident on Twitter.
Sinha was flying from Delhi to Ranchi on Tuesday on budget airline AirAsia India. During the flight, when he asked for a particular meal, the air hostess told him that he had pre-booked some other meal which cannot be changed at the last minute. Sinha then paid for the particular meal he wanted without making any fuss. His co-passenger Asad Rasheed witnessed the incident. AI Cabin Supervisor Slaps Flight Attendant Over Wrongly Served Non-Veg Meal.
"@AirAsia Your cabin crew needs to recognize MoS for Civil Aviation. Flew Delhi-Ranchi I5-545 today, with @jayantsinha in the adjacent seat. He asked for a specific food item but was told "you have booked a South Indian meal, which can't be changed now". So he paid for his snacks!" Gurguram-based Rasheed tweeted. Sinha responded to his tweet with a winking face smiley.
— Jayant Sinha (@jayantsinha) November 20, 2018
There have been several reports of unruly incidents involving passengers in recent times, including Shiv Sena MP Ravindra Gaikwad, who allegedly assaulted an Air India staffer at the Delhi airport for not being allowed to fly business class. A 'no-fly' list was then introduced to bar such passengers from flying.
Mumbai-based jeweller Birju Kishore Salla, who had created a hijack scare onboard a Jet Airways flight on October 2017, was put in the 'no-fly' category, the first person in the list.