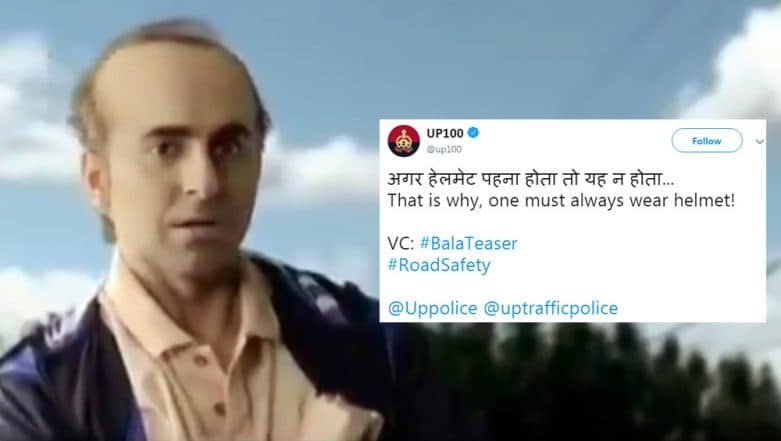 Social media accounts of police departments are getting interesting day by day. In the age and time of social media, it is one of the easiest mediums to connect with an audience. UP Police's Twitter account keeps posting witty tweets once in a while based on the recent trends. As Ayushmann Khurrana's new film Bala's teaser released yesterday, the UP Police used his bald look to give a message of using helmets. In the teaser, Ayushmann is seen bald and is riding a bike. The UP Police has posted a shorted clip from the teaser and they write, "That is why, one must always wear helmet!" Their idea to promote road safety is liked by netizens.
The UP Police tweeted a part of the clip from Bala teaser, which shows the bald avatar of lead actor Ayushmann Khurrana. While the actor's first look has impressed his fans, the police department impressed the netizens with their interpretation of it to road safety. As Khurana too is seen riding without a helmet, his cap flies away, revealing his bald look. They write, "अगर हेलमेट पहना होता तो यह न होता... #RoadSafety @Uppolice @uptrafficpolice" Meghalaya Police's Witty Tweet on 'Rasna' as Drugs Impresses Netizens, Other Times Police Departments Creatively Trolled Drug Peddlers.
Check UP Police's Tweet on Road Safety:
अगर हेलमेट पहना होता तो यह न होता...

That is why, one must always wear helmet!

VC: #BalaTeaser#RoadSafety @Uppolice @uptrafficpolice pic.twitter.com/ieZ5foHl06

— UP100 (@up100) August 26, 2019
The video clip has been viewed over lakh times and the tweet has about 1000 thousand likes. People on social media liked their concept and agreed with their caption.
This is not the first time, UP Police's Twitter account has tweeted with a trending reference. When FaceApp challenge, took the internet by storm, they used it to once again promote the use of helmets. Using just emojis, they creatively gave a message that what your face would look like if you meet with an accident and haven't worn a helmet. Back in July 2018, when Sacred Games season 1 created a buzz, they used dialogue to spread warnings against fake news. So UP Police too has been time and again using popular references, to get their message across especially to the internet generation.