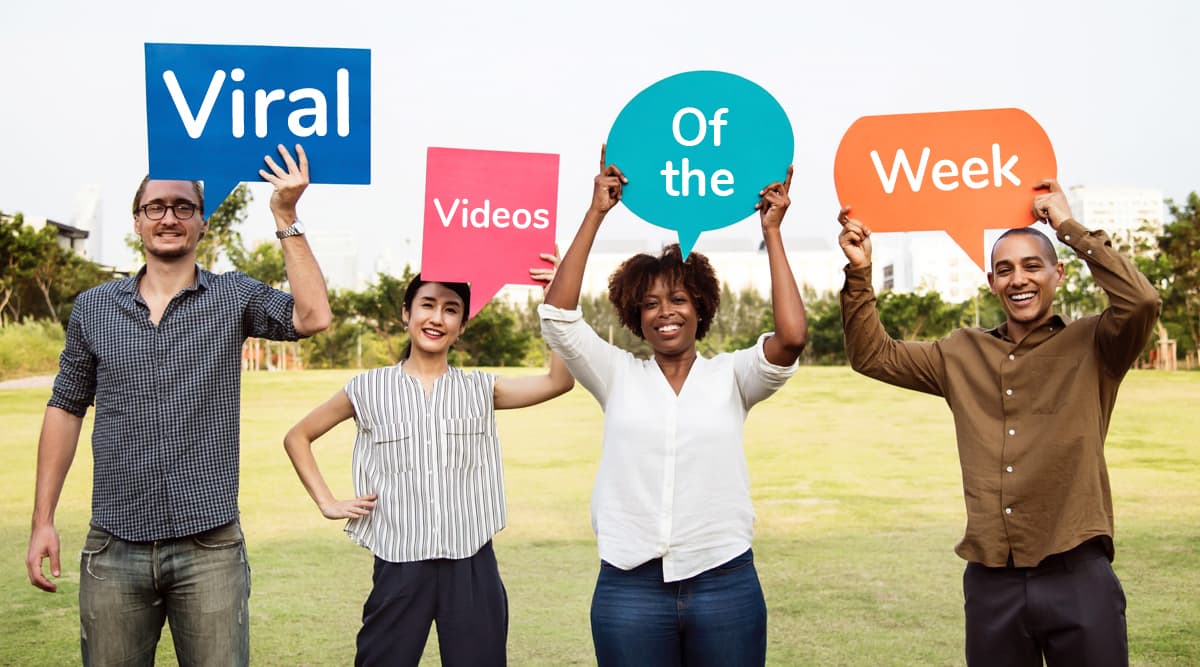 We are at that time of the week again, when we look back to the moments that enthralled the internet users and how! Viral videos of the week is a way to acknowledge the moments that surfaced on social media platforms, massively. This week, we had a lot! With the Citizenship Amendment Act (CAA) coming in India, desi Twitterati has taken to the social media platform, sharing everything related to the ongoing protest. While these videos from across the nation gripped netizens across, other clips filled the timeline, for good and in some cases, maybe worst. Without wasting any minute, let us take a look back to the clips that went viral this week. From Australian woman frying eggs amid heatwave to girl unlocking the phone using her saliva, watch seven videos enthralling social media.
1. Sunny Side-Up Literally!
A woman in Australia managed to heat up a pan on the sidewalk and cook an egg outside as temperature soared across the country. https://t.co/TSy4ViIS2P pic.twitter.com/FCe5xxBtKs

— ABC News (@ABC) December 20, 2019
The scorching heat of Australia is already making headlines. But above all, are the moments when citizens are captured cooking meals with the help of the sun. Yes, a woman filmed herself making a sunny-side-up on the sidewalk as heatwave hits Melbourne. The fried egg was rounded and perfectly cooked for your tummy!
2. Miss Nigeria's Reaction at Miss World 2019 Winning Announcement:
We all saw Miss World 2019 Toni-Ann Singh's winning reaction. But you missed grand, if you didn't notice Miss Nigeria Nyekachi Douglas' thrilling reaction at Toni Ann-Singh's win. People cannot still get over her excitement, making them want a BFF like her.
3. Woman Tries to Remove Peel Off Mask:
This woman, identified as Navy Chandler, shared her horrific moment, when she tried all her strength to remove the stubborn peel-off mask she was wearing. Chandler ended up crying in pain, as it took her an hour to remove that mask.
4. Girl Unlocks Phone Using Her Saliva:
It might sound disgusting, but it surely is impressive! The Georgina girl named, Jessica uses her spit to press the numbers to unlock her phone. And her boyfriend decided to show her 'unique' talent in TikTok.
5. Mumbai Man Washes Tea Cups in Dustbin:
@Central_Railway @drmmumbaicr @RailMinIndia @PiyushGoyalOffc @PiyushGoyal @ShivajiIRTS ठाणे प्लॅटफॉर्म नंबर 6 वर सूखा कचराच्या बादलीतल्या पाण्याने चहाचे ग्लास, गंजी.. धुताना एक व्यक्ति दिसते आहे.

(वीडियो चा आवाज ऐकून बघा).https://t.co/hy6c2lHHaw@AmhiDombivlikar @kiran_mestry pic.twitter.com/2OnXhbfbI4

— Mandar D. Abhyankar™🇮🇳 (@mandar2005) December 20, 2019
This is yet another unhygienic condition being captured on camera. The video surfaced from Thane railway station, shows a man washing used teacups in a dustbin, which is meant for dry waste. Not only the cups, but the man also washes a vest in the same trash bin.
6. Rescue Dog, Bethany Looking For Permanent Home:
Adorable pooch, Bethany has already won hearts with her jolly attitude. She might have a disfigured face, but she is equally energised as any other dogs. The pooch is a Labrador-cross and is currently under the shelter of UK's Safe Rescue for Dogs.
7. Karnataka Farmer Sings Justin Beiber's Baby:
This Karnataka farmer identified as Pradeep HR has sung Beiber's song "Baby" wonderfully and even matched his steps with the lyrics. The way he imitates the accent and performs on the field is impressing viewers on social media.
These were the seven videos that have gone viral this week. Which one did you like the most? You can scroll up, re-watch and decide. Meanwhile, let us enjoy the last Saturday before Christmas and wait what the upcoming week has in store for us.