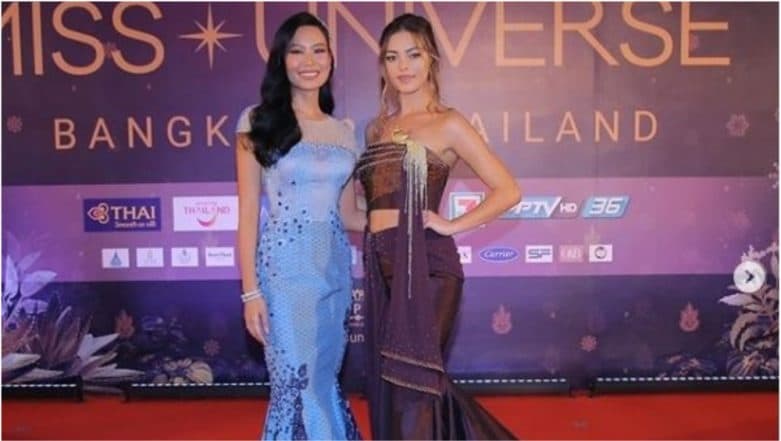 A popular Thai YouTube presenter is facing charges in Thailand after she allegedly criticised a Miss Universe dress designed by the daughter of the king. Wanchaleom Jamneanphol, a popular online TV host mocked a blue dress worn by a Thai entrant, Sophia Kanchanarin at the 67th Miss Universe pageant which was held in Nonthaburi province, Thailand. The host is facing charges under Thailand's strict cybercrimes and laws which make it illegal to say anything negative about the monarchy. 2018 Miss Universe USA Contestant Makes Fun of Miss Cambodia and Miss Vietnam Over English Speaking Skills, Video Goes Viral.
The dress was designed by Princess Sirivannavari Nariratana and in the comments online the YouTube star called the dress 'ugly' in a now deleted post. Jamneanphol's post criticising the design of the couture gown went viral and prompted Thai millionaire businessman and aspiring politician Kitijanut Chaiyosburanato to file charges against her this week. As reported in The Guardian, Chaiyosburanato said, "I cannot accept that a well-known individual in the online world expressed negative opinions that affect the country's reputation." He also described the post as 'irresponsible behaviour'.
Jamneanphol has since then apologised in a post online and said, 'she did not have any intention to insult or disrespect the high institution'. She also said, "I merely did not know the full consequences of my actions via my posts and comments, which caused damaged to Your Royal Highness and the monarchy."
Nariratana is the only daughter of King Vajiralongkorn and founder and creative director of her own high-end fashion line, Sirivannavari. She is also often seen on the pages of Vogue and is widely described as Thailand's 'most fashionable royal'. Thailand has some of the strictest laws in world, punishing anyone who 'defames, insults or threatens the kind, the queen, the heir-apparent or the regent'.