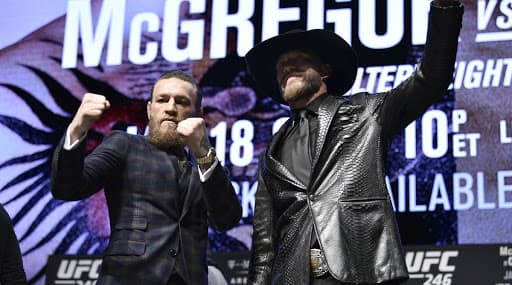 UFC's first Pay-per-view of the New Year and it is a mouth-watering one. This event will have one of the most anticipated returns in mixed martial arts as 'The Notorious' Conor McGregor is making his comeback inside the octagon in over a year. The Irishman will take on Donald 'Cowboy' Cerrone in the Welterweight division at UFC 246 at the T-Mobile Arena. McGregor is just playing his second UFC match in three years and will be in search of his first win since UFC 205. Ahead of this much-awaited bout, we take a look at what can we expect from both these elite fighters. Conor McGregor Looks Beefed Up Ahead of UFC Return, To Face Donald Cerrone in Welterweight Division (View Pic).
After waiting for five tears, we finally get to see two of the most exciting mixed martial artist take each other on inside the octagon. No one knows what to expect from the match as fans are aware by now that all bets are off when it comes to Conor McGregor, but one thing is for sure that the Irishman never fails to deliver. Be it his cocky attitude in the press conferences or his unusualness inside the cage, Conor always entertains. Donald Cerrone, on the other hand, is not the one who shy's away from a fight and is one of the most experienced fighters around with a record that only a few can match. The Cowboy is 36-13 in MMA and has the most finishes, wins and knockdowns in UFC history. Cristiano Ronaldo Hailed As 'Best in the World' by Khabib Nurmagomedov, Juventus Star Plays Football With Young Spirited Kazakh Boy With No Legs (Watch Video)
Both fighters have a similar fighting style and like to be on their feet during the course of the match. Conor has tremendous speed and timing at the beginning of matches and his match against Jose Aldo is a clear example of McGregor's power early on as he knocked the former champion in just 13 seconds. So Cerrone's best bet will be to go against his basic instincts and take a cautious approach at the start but as the match progresses he can try and take the Irishman down. It is evident from the past matches that 'The Notorious One' struggles on the ground all of his four defeats were via submission on the floor.
Donald Cerrone has more experience in the Welterweight division and has played 11 fights in the Octagon since Conor last won in the ring. The American will fancy his chances but needs to be careful of McGregor's ferocious left jab as very few fighters in the world possess the ability to generate the kind of power that the Irishman does.