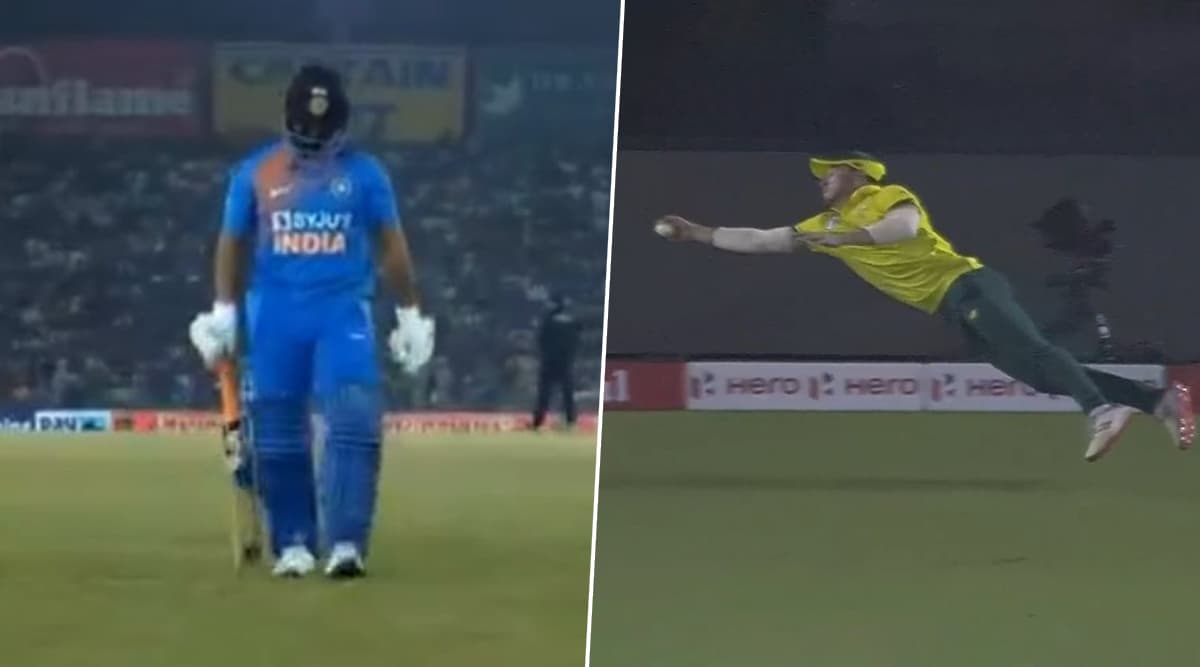 Rishabh Pant continued to disappoint with another sing-digit score in the 2nd T20I against South Africa. But if fans were left with their heads down following another poor outing from Pant, they were excited on seeing a one-handed stunner from David Miller, who plucked one out of the air to dismiss Shikhar Dhawan in the 12th over of India's innings. In a match, which saw three spectacular catches, Miller's take was arguably the best. But even his superhuman effort couldn't stop fans from trolling Pant, who failed to grab another opportunity to steer India home. South Africa Vs India, Highlights And Cricket Score 2nd T20I Match.
Miller's catch came at a moment when the game was slipping away from South Africa, with Virat Kohli and Dhawan stitching a 60-plus stand for the second wicket to take India closer to victory. Dhawan, who was approaching his fifty, stepped out to smash Tabraiz Shamsi out of the park. But failed to connect properly. But despite his poor connection, the ball was travelling towards the long-on boundary and with some real pace when Miller appeared out of nowhere and grabbed the delivery to remove Dhawan. India vs South Africa 2nd T20I Match Report: Virat Kohli Stars as IND Romp to Seven-Wicket victory Over SA in Mohali.
David Miller Takes One-Handed Stunner
What a Miller-acle!!

Stunning catch from David Miller to dismiss Shikhar Dhawan #INDvSA #SAvIND pic.twitter.com/Fj4w3b0I5s

— 🏏 Sports Trend India🏏 (@SportsTrend_IND) September 18, 2019
Everyone in the stadium, including the audience, Miller's South African teammates and both Kohli and Dhawan, were awed on seeing Miller pluck the ball from almost closer to the ground by dragging himself down the right while in the air. Miller's superhuman effort left Kohli perplexed and all the Indian skipper could do was stare in amazement even as the dismissed Dhawan passed him, sporting a wiry smile on his face.
The Reaction From Kohli
That reaction from Kohli says it all! #INDvSA pic.twitter.com/ECuU9i15fY

— Karan P. Saxena (@karanpsaxena92) September 18, 2019
Catch of the Season 2
And now I have seen a second from David Miller #SAvInd https://t.co/llLyJeu1EZ

— SONU SHARMA (@CookeyLegend) September 18, 2019
Those Two Cannot be Rated
What a flying catch by #ViratKohli nd then #Miller 🔥🔥🔥

Bestest catch of the Match.

.

.

Rate their catch on the Scale of 1-10#ViratKohli #IndvsSA #TeamIndia #KingKohli #Kohli #DavidMiller #Viratian pic.twitter.com/DgfmyXfhyi

— Being_fatima✨ (@Beingfatima3) September 18, 2019
What a Catch Miller!!
OUT! | Shamsi Strikes, IND 94/2 after 11.4 Overs

What

A

Catch!!!🤯

David Miller takes a blinder on the boundary, running to his right and takes a one-handed catch.

#IndvsSA #ProteaFire pic.twitter.com/OlTD9FjfxW

— Cricket South Africa (@OfficialCSA) September 18, 2019
David Miller!!
DAVID MILLER, WHAT A CATCH!

— Vinayakk (@vinayakkm) September 18, 2019
A Regular Catch For Them
Watch here

DAVID MILLER TAKES A SCRIMER!!!🙌🔥💥

WHAT A CATCH!!!! Shikhar Dhawan Gone for 40! pic.twitter.com/QsjU4T6oBb

— W a s i f 🏏🔥 (@_cricketFreak) September 18, 2019
But while Miller's catch left fans wonderstruck, Pant's dismissal after playing just five deliveries left them with their hands on their head. The 21-year-old left-hander, who is tipped by many as MS Dhoni's successor in the Indian team, had played only four deliveries – for one single, one double run and a leg bye – when he stepped out to smash debutant Fortuin out of the park only end up in offering a simple catch to Shasmi at short fine-leg.
Disappointed!!
Man of the Match is Rishabh Pant

Well played boy pic.twitter.com/KrxXTSF0VE

— Sajan Randhawa💙 (@SAJAN_Aamirian) September 18, 2019
Just Pant Things
Just Rishabh Pant things 😍🔥

Legend 🙌 pic.twitter.com/wCqMCrFG5H

— MAHI🇮🇳 (@Helicopter_King) September 18, 2019
Rishabh Pant's Batting Technique
Rishabh Pant's batting technique pic.twitter.com/AXW4dpG1JN

— Arun LoL (@dhaikilokatweet) September 18, 2019
Meanwhile Ishan Kishan
Ishan Kishan after watching Rishabh Pant's dismissals these days :#INDvSA pic.twitter.com/0xGl6s04h6

— . (@cleanbowIed) September 18, 2019
The Fans...
Everyone after seeing Rishabh pant's batting pic.twitter.com/uiFltZSdOH

— Kapil Matwa (@kap_pill) September 18, 2019
The delivery – fourth ball of the 14th over – was short, slow and in place to be smashed. But Pant, despite having all the time in the world, only managed to pick up the short fine-leg fielder to depart from a five-ball four runs. His wicket left fans disappointed and once again the wicket-keeper batsman was trolled for his lack of maturity.
But despite the quick loss of Dhawan and Pant in the space of two overs, India romped off to a victory with one over and seven wickets in hand. Kohli, as he does on most occasions, led from the front and played a captain's knock while Shreyas Iyer gave the Indian skipper good company.