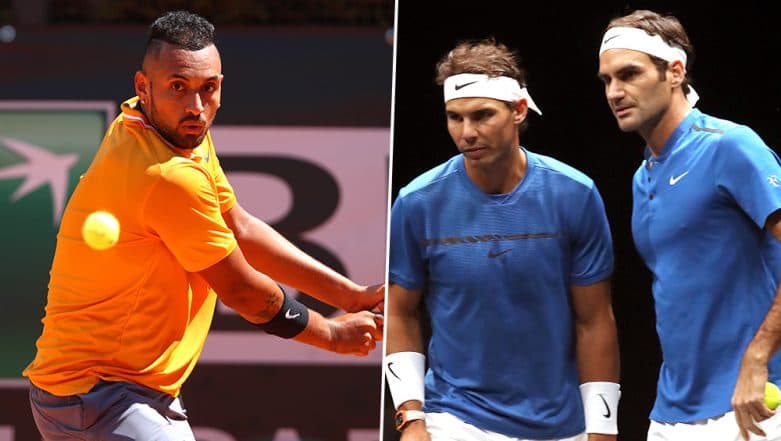 Nick Kyrgios, who faced disqualification after hurling a chair on the court and abusing during his second round match against Norwegian Casper Ruud at the Italian Open on Thursday, kicked up yet another storm after his comments on tennis greats and fellow players including Roger Federer, Rafael Nadal and Novak Djokovic. The comments, which have been described by many to be in "bad taste", has raised the question whether Kyrgios- the enfant terrible of tennis world, has taken it bit too far this time? Rafael Nadal Wants Nick Kyrgios to Set Better Example.
Nick Kyrgios is no stranger to controversies but what the fans have seen of the tennis star this past week is unacceptable even according to Nick's standards. To be fair to Nick, he accepted that "emotions got better of him" in the match against Casper Ruud, however, there is absolutely nothing that can justify what Nick said about the leading names in the game of Tennis. Kyrgios Disqualified as Federer, Nadal, Djokovic Advance in Rome.
Watch Nick Kyrgios Hurling a Chair During His 2nd Round Match at the Italian Open
La escena completa previa a la descalificación de Kyrgios. Ver para creer. #ibi19 pic.twitter.com/BEAk5Jpnah

— David Boti (@davidboti) May 16, 2019
"Very eventful day to say to the least. Emotions got the better of me and I just wanted to say that the atmosphere was crazy out there today, just super unfortunate that it had to end in a default. Sorry Roma, see you again, maybe," said Nick on his Instagram account after the incident.
Earlier this week, Nick launched a verbal attack on games leading names like Roger Federer, Rafael Nadal and Novak Djokovic. "When I would walk out on the court against Nadal, Djokovic, Federer, any of these guys, I don't understand why I need to respect them automatically," said Nick, trying to bring to fore his rebel nature.
However, at various times during the podcast, he called Novak Djokovic "cringeworthy", Rafael Nadal as "super salty" and lambasted Spaniard Fernando Verdasco saying "Verdasco drives me nuts, man. That guy...I don't even want to talk about it."
In March, he had clashed with a fan at the Miami Open and faced a number of penalties throughout his career for his behaviour. During the 50-minute interview, the Australian and World No. 33 said that he is seeking mental help for managing his temper. He need not look further than the men he commented on for that. After all, Roger Federer, Rafael Nadal and Novak Djokovic are respected as much for their tennis prowess and achievements as for their respect towards the game and opponents.