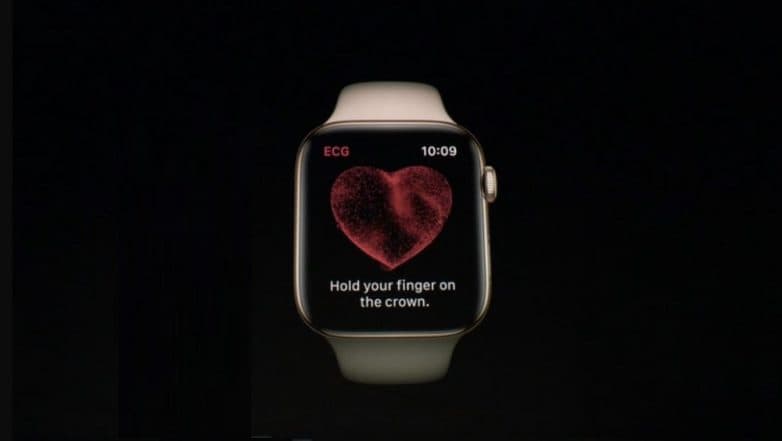 Apple Watch Series 4 has started receiving an important ECG feature from Thursday onwards with the roll out of new WatchOS update. This ECG feature will be available for the users using Apple Watch in the US with upgrading with to watchOS 5.1.2. The American tech giant has started rolling out the new OS update from Thursday onwards. The new update also brings irregular heart rate notifications for Apple Watch Series 1 to Series 4. Both of these features are limited to US region only because of the legal restrictions. Apple Won't Be Launching its First 5G iPhone Until 2020  - Report.
Apple announced this new ECG feature on the Apple Watch Series 4 in September this year at an event where the company also launched new Apple iPhones. The company also claimed that Apple Watch is the first device to get FDA clearance for OTC ECG features. However, this feature was not available when company launched the Apple Watch Series 4 and promised to introduce it later this year. As promised, the company has started rolling out the feature. Apple Music To Be Streamed by Amazon Echo Smart Speakers From December 17.
In order to take an ECG, users just need to place their finger on the digital crown and rest will be done by the Watch. The users need to wait till 30 seconds while Apple Watch Series 4 scans the electrical impulses in the finger. However, the accuracy of the Watch will not be as good as the medial equipment.
During the initial setup, the users will be guided through the interpreted results shown by the watch as well as features. Once the ECG session is carried out, the Watch will highlight any sinus rhythm senses or signs of atrial fibrillation. Moreover, the full electrocardiogram chart can be exported as PDF in the Health app so that it can be sent to your doctor.
Moreover, the irregular heart rate rhythm notifications will be made available on Series 1, Series 2, Series 3 and Series 4 watches. Apple Watch will keep a passive track on the heart rate rhythms in the background and will push a notification if senses something is wrong.