Google's most anticipated annual developer conference - I/O 2018 kicked off at Shoreline Amphitheater in Mountain View, California yesterday which witnessed some big announcements from the company. The leading tech giant immediately tapped on the right chords on the Day 1 keynote. With more technological advancements and features anticipated for the next couple of days, Google on Day 1 clearly hinted that it will be focusing on artificial intelligence (AI) thus announced rebranding of its Google Research division to Google AI. See More: Google I/O 2018: CEO Sundar Pichai Addresses Privacy Concerns at the Conference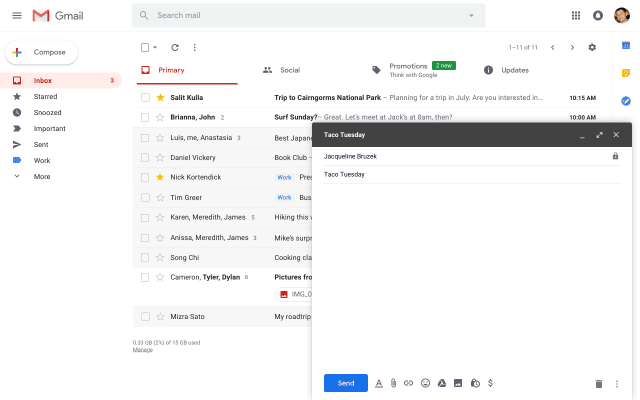 Google also made an announcement at I/O 2018 that it will it introduce new AI-enabled feature to Gmail soon. This new feature on Gmail will understand the context of an e-mail and suggest phrases accordingly for the users. Google has always emphasized on making Gmail more user friendly and feature loaded. With the new AI enabled innovation coming into play, the users can now draft emails faster without any hesitation from scratch.
The new Smart Compose feature will soon appear in the new Gmail over the next few weeks. This new smart compose AI innovation from Google will also be offered for the G Suite customers in the workplace soon. Read Also: Google I/O: Sundar Pichai Apologises for Burger, Beer Emoji
Here how you can get the new Smart Compose feature on your Gmail. Go to Settings on your Gmail account, then click on 'Try the new Gmail'. Also, under the general tab in the settings, enable the 'Experimental Access'. Moreover, if you are willing to switch back to the original Gmail, uncheck the box.
The tech giant also had made other major announcements at I/O 2018 that intends for simplifying the users' life with the help of new AI-enabled features. With advances in AI, Google has introduced 6 new languages to the Google Assistant in order to make it sound more natural. Moreover, musician John Legend voice will be added on Google Assistant by the end of this year.
And, Google Android P Mobile Operating System announcement was one of the highlights of this years' developer event wherein the company unveiled the beta version of Android 9.0. However, the company has not revealed the official name of the next-in Android OS.