Amid the data breach by Facebook, many users are turning away from using the social media site. After WhatsApp Co-Founder Brian Acton tweeted about the incident with #DeleteFacebook, it immediately became a worldwide trend on Twitter. Facebook allegedly let Cambridge Analytica utilise user data to influence political opinion during elections.
A whistleblower had revealed that Cambridge Analytica used personal data without authorisation in 2014, to influence US voters and target them with political advertisements. Reportedly, they gathered data through an app called thisisyourdigitallife. Thousands of users were paid to take a personality test who agreed to the academic use of the data. However, they also collected their Facebook friends' data and their private information.
With the ongoing fiasco, many Facebook users claim to have deleted their accounts on the social media giant. Search results for 'How to delete Facebook account' saw a substantial growth after the incident came to fore. Other search related queries include, 'how to completely delete a facebook account', 'how to delete messages from facebook messenger', 'how to delete comment on facebook', & 'how to delete an account n facebook'.
Here is Google trends search result in the past 30 days showing how users are searching ways to delete the Facebook account: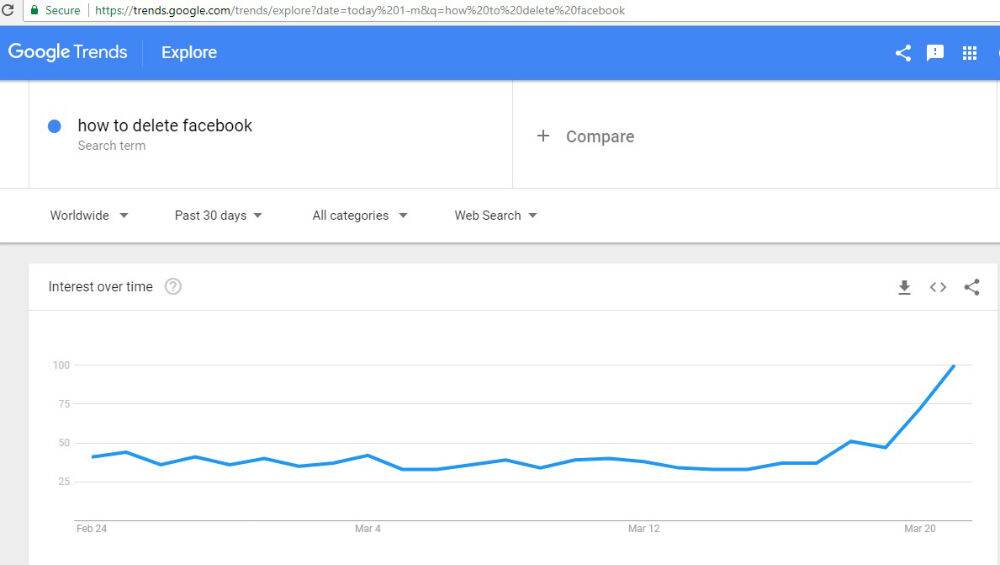 Here's how you can delete your Facebook account:
• On the top right of your Facebook page, click the account menu down arrow
• Select 'Settings'
• Choose 'Security' in the left column
• Choose 'Deactivate your account'
While following this will remove you from Facebook, it won't delete your account entirely. You can reinstate your profile later. Click on this link to Delete your  Facebook account.
In case you want to store your Facebook data before deleting it, you can tap 'Download a copy of your Facebook data' at the bottom of your General Account Settings. You can also save ensure your private data is safe without deleting your account.
Troubles for Facebook increased as Elon Musk, CEO, and lead designer of SpaceX deleted the Facebook pages for the company. Acting on orders, Tesla's Facebook account was also deactivated. SpaceX had over 2.6 million likes on Facebook while Tesla had over 2.4 million likes.
The Indian government has now issued a notice to UK-based Cambridge Analytica, asking for the list of clients and the source of data it had collected. Cambridge Analytica has been asked by the IT Ministry to respond by March 31 asking how the company had collected user data, whether consent was taken from the individuals, and how the data was used. Mark Zuckerberg has apologised for "major breach of trust" and said he was committed to stopping interference in the elections across the world.