As Facebook continues to face backlash for the private data breach of its users, people using the social media giant are planning on deleting their accounts.  While many are resorting to deactivating or deleting Facebook account altogether, you can also save their personal data without actually deleting your account. With this, you can ensure that your data has been removed from the site without deleting your account.
The authenticity of the incident became strong after Facebook Founder Mark Zuckerberg apologised for letting Cambridge Analytica utilise user data to influence political opinion during elections.
With #DeleteFacebook becoming a widely used trend following WhatsApp Co-Founder Brian Acton's tweet, many users have claimed to have deleted their accounts. Google search results for 'how to delete Facebook account' shows a steady increase. There is also an upward trend in related keywords including 'how to completely delete a facebook account' and 'how to delete an account n facebook'. Elon Musk, CEO, and lead designer of SpaceX has also deleted the Facebook pages of his company including Tesla.
Here are some ways in which you can secure your Facebook data without deleting the social media account:
Click on Settings and go to 'Apps, Websites and Plugins'. Once there, click on Disable Platform. Doing this prevents Facebook from letting you sign into other websites or apps like Instagram or other apps you use Facebook for.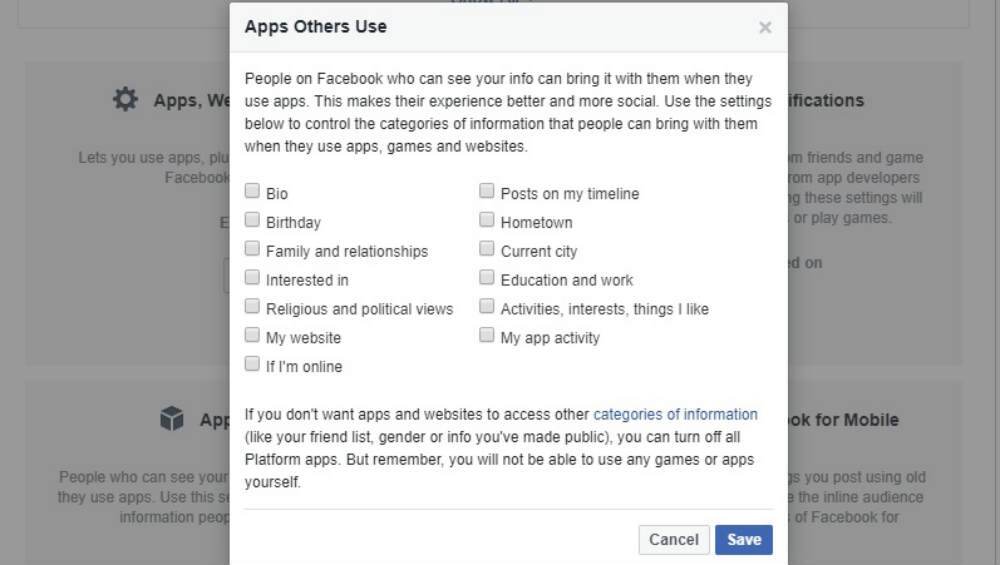 Another option is going to 'Apps Others Use' and deselect everything on that list. This will ensure your personal information is not shared anywhere else. By doing so you can remove individual apps from the same App Settings page which you previously gave access to.
Another way to secure your personal data is going to Ads section of Facebook and turning off Facebook's ability to collect data from the other websites you visit.
Also, edit the Your information section to block Facebook from sharing data about you with advertisers.
Installing add-ons that block or remove cookies or using it in incognito mode at all times will also help the same. A VPN service might also be helpful.
Facebook let Cambridge Analytica use personal data of its users without authorisation in 2014. Allegedly it was used to influence US voters and target them with political ads. They gathered data through an app called thisisyourdigitallife. Users were paid to take a personality test who agreed to the academic use of the data. But, they also collected their Facebook friends' data and their private information.