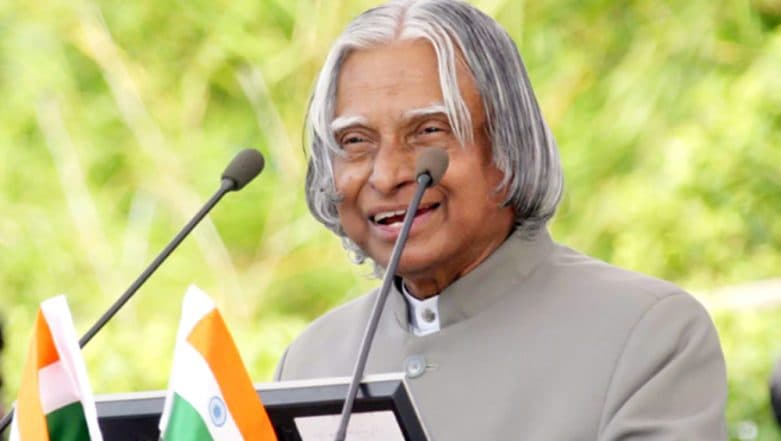 New Delhi, September 7: Late former President Dr APJ Abdul Kalam, whose work in the scientific realm was way beyond par, had once explained before a gathering how one should handle failure. The video of his speech is once again making the rounds, as the Indian scientific community was left heartbroken after the ambitious Chandrayaan 2 mission fall short of achieving its intended goal. Chandrayaan 2 Heartbreak: Why ISRO's Most Ambitious Mission is a Success Despite the Communication Loss.
In the video, Kalam could be heard advising the listeners that one should not fear the failure, but rather confront it. He recalled how the then ISRO chief Satish Dhawan had claimed responsibility after the Satellite Launch Vehicle (SLV-III) mission in 1979 - which was being headed by Kalam - had failed.
Watch Video of Kalam's Golden Words on Leadership And Failure:
"The year was 1979. I was the project director. My mission was to put the satellite in the orbit. Thousands of people worked nearly 10 years. I have reached Sriharikota and it is in the launch pad. The countdown was going on…T minus 4 minutes, T minus 3 minutes, T minus 2 minutes, T minus 1 minute, T minus 40 seconds. And the computer put it on hold… don't launch it. I am the mission director, I have to take a decision," Kalam could be heard as saying in the video dating back to 2013.
"I bypassed the computer and launched the system. There are four stages before the satellite is launched. The first stage went off well, and in the second stage, it got mad. It went into a spin. Instead of putting the satellite in orbit, it put it into the Bay of Bengal," the former President had further added.
Kalam recalled how Dhawan, his then boss, pulled him to the press conference addressed after the mission glitch. Though the Kalam was expected that he would be projected as the culprit as he taken a contentious decision, the then ISRO chairman decided to take the blame on himself.
"He took the whole blame on himself despite criticisms. He took all the blame and assured them that next year we would succeed because his team was a very good one," Kalam recalled.
The single incident taught him more on leadership as compared to years of education and work experience. "I learned a very important lesson that day. When failure occurred, the leader of the organisation owned that failure. When success came, he gave it to his team. The best management lesson I have learned did not come to me from reading a book; it came from that experience," Kalam says in the video," he had said.