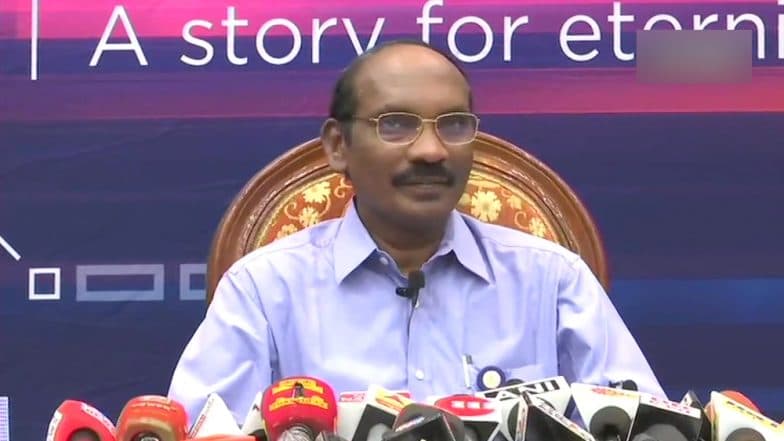 New Delhi, August 20: Chandrayaan 2, India's second moon mission, is on the path of a successful landing on September 7, said ISRO chief K Sivan after the space agency successfully completed the crucial orbit manoeuvre and put the spacecraft into the lunar orbit on Tuesday. Sivan said all systems of Chandrayaan 2 are running normally after the Lunar Orbit Insertion (LOI) was completed successfully.
"Chandrayaan 2 mission crossed a major milestone today. The precise lunar orbit insertion manoeuvre was carried out at 9 am for about 30 minutes and Chandrayaan 2 was precisely inserted in the defined orbit," Sivan said. According to ISRO, now a series of orbit manoeuvres will be performed on Chandrayaan 2 on August 20, 21, 28, 30 and September 1 to lower the altitude of the spacecraft. Chandrayaan 2 Explained! When Will ISRO's GSLV-Mk III Reach Moon And What Will Happen After That?
Explaining the further key exercises, the ISRO chief said: "The next major event will happen on September 2 when the lander will be separated from the orbiter. On September 3, we will have a small manoeuvre for about three seconds to ensure that the systems of the lander are running normally." "On September 7, the lander will land on the moon at 1: 55 am," he added.
Chandrayaan 2: Where Is The Spacecraft Now & When It Will Reach The Moon; Know ISRO Mission's Path:
The heavy-lift rocket GSLV MkIII-M1, nicknamed 'Baahubali' successfully put Chandrayaan 2 spacecraft into Earth's orbit on July 22. After expected landing on the moon on September 7, which has been described as "15 minutes of terror" by Sivan, the wheeled rover will move on the lunar surface and will perform on-site chemical analysis.
The rover will carry out experiments on the Lunar surface for a period of 1 Lunar day, which is equal to 14 Earth days. The lander is named "Vikram" as a tribute to the pioneer of India's space programme and former ISRO chairman Vikram Sarabhai.
When Chandrayaan 2's rover will land on the Moon, India will become the fifth country in the world to achieve the feat. India launched its maiden moon mission Chandrayaan-1 on October 22, 2008.