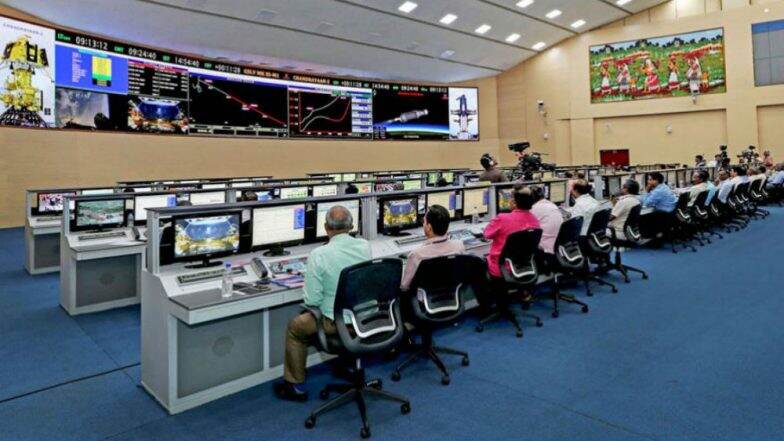 New Delhi, August 21: After entering the Lunar orbit, Chandrayaan 2, India's second moon mission, successfully performed another critical manoeuvre on Wednesday, the Indian Space Research Organisation (ISRO) said. The manoeuvre lasted about 20 minutes as Chandrayaan 2 spacecraft moved closer to the Moon. According to ISRO, all systems of the spacecraft are functioning normally.
"Second Lunar bound orbit manoeuvre for Chandrayaan 2 spacecraft was performed successfully today," ISRO tweeted. The next manoeuvre in the lunar orbit is on August 28, the space agency said. Subsequently, three more orbit manoeuvres will be performed on Chandrayaan 2 on August 28, 30 and September 1 to lower the altitude of the spacecraft. Chandrayaan 2 on Course to Successful Moon Landing on September 7, Says ISRO Chief.
After Chandrayaan 2 entered the Lunar orbit on Tuesday, ISRO chairman K Sivan said the spacecraft is on the path of a successful landing on September 7. Sivan said the soft landing on the moon will take place on September 7 and Prime Minister Narendra Modi has been invited to witness the historic moment.
Chandrayaan 2: Where Is The Spacecraft Now & When It Will Reach The Moon; Know ISRO Mission's Path:
"The next major event will happen on September 2 when the lander will be separated from the orbiter. On September 3, we will have a small manoeuvre for about three seconds to ensure that the systems of the lander are running normally," Sivan said. "On September 7, the lander will land on the moon at 1: 55 am," he added. Chandrayaan 2 Explained! When Will ISRO's GSLV-Mk III Reach Moon And What Will Happen After That?
The heavy-lift rocket GSLV MkIII-M1, nicknamed 'Baahubali' successfully put Chandrayaan 2 spacecraft into Earth's orbit on July 22. After expected landing on the moon on September 7, which has been described as "15 minutes of terror" by Sivan, the wheeled rover will move on the lunar surface and will perform on-site chemical analysis.
ISRO is continuously monitoring the progress of the mission from the Mission Operations Complex (MOX) at ISRO Telemetry, Tracking and Command Network (ISTRAC) in Bengaluru with support from Indian Deep Space Network (IDSN) antennas at Byalalu.