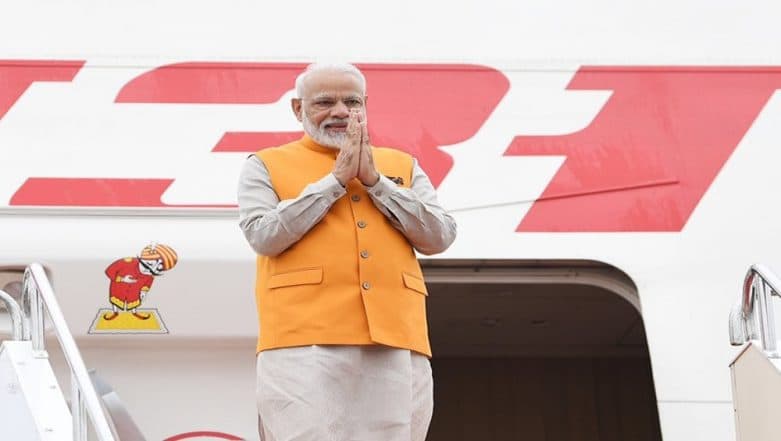 Osaka, June 27: Prime minister Narendra Modi reached Osaka on Thursday morning to participate in G20 Summit. PM Modi was accorded warm welcome by members of the Indian community in Japan after he arrived here for the Summit. After reaching Japan the Prime Minister tweeted, "Reached Osaka to join the #G20 Summit. Grateful to the dynamic Indian community for the warm welcome!" Donald Trump, Chinese President Xi Jinping to Meet at G-20 Summit in Japan.
Ministry of External Affairs (MEA) spokesperson Raveesh Kumar also tweeted, "PM @narendramodi greeted by excited and proud young members of the Indian community on his arrival at the hotel in Osaka." Trump Leaves for G-20 Summit, to Meet Modi, Xi and Putin.
PM Modi's Tweet:
Reached Osaka to join the #G20 Summit.

Grateful to the dynamic Indian community for the warm welcome! pic.twitter.com/BrPkl9VJqJ

— Narendra Modi (@narendramodi) June 27, 2019
The summit will take place between June 28-29. It will be PM Modi's sixth G20 Summit. He will hold bilaterals and pull-asides with a host of world leaders, including United States President Donald Trump, Japanese Prime Minister Shinzo Abe, Turkish President Recep Tayyip Erdogan, and South Korean President Moon Jae-in on the sidelines of the summit. PM Narendra Modi to Attend G-20 Next Week; Financial Stability, Black Money, Terrorism to Top India's Agenda.
On the first of the 14th G20 Summit, PM Modi will meet Abe.  India will hold Japan-US-India trilateral summit of the sidelines of G20. The theme of this year's summit is  "Human-Centred Future Society," and the Prime Minister is expected to raise issues pertaining to energy security, terrorism and return of economic fugitives.
Meanwhile, tight security measures were enforced in Osaka on Wednesday ahead of the G20 summit during which tens of thousands of policemen are expected to be deployed. The summit on Friday and Saturday will be held at a convention centre located on an island in Osaka Bay. According to reports, Businesses near the G20 venue were shut and access to a nearby metro station will also be closed off during this period.
(With agency inputs)