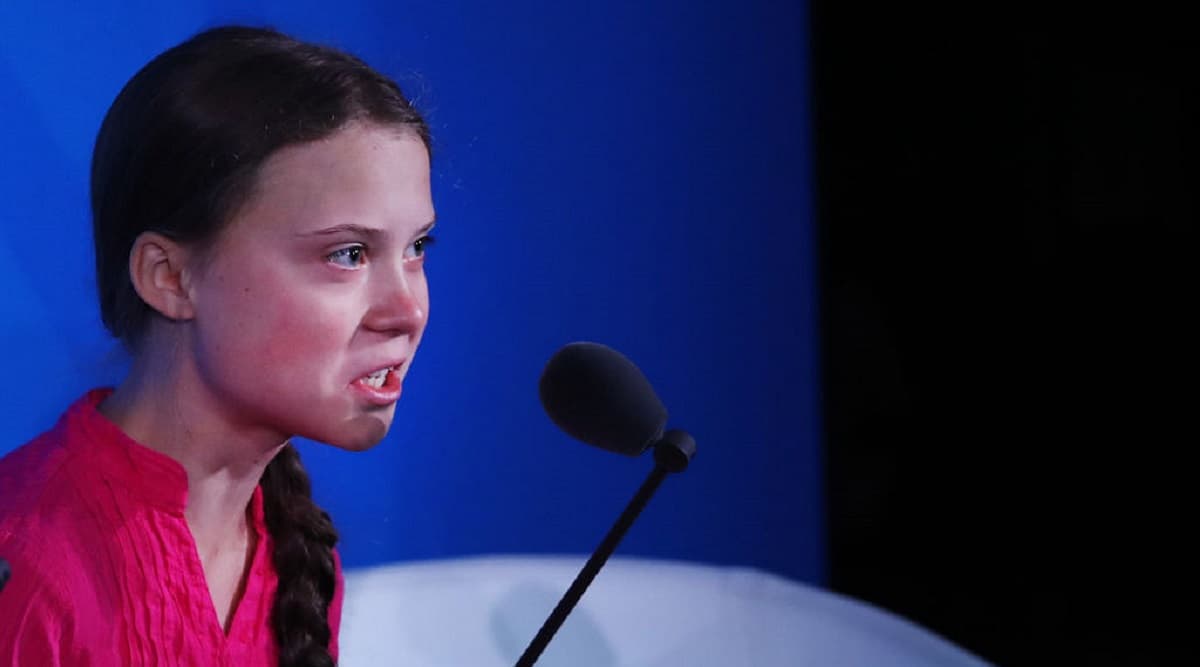 Stockholm, September 26: Swedish environmental activist Greta Thunberg has drawn conflicting reactions to her speech at the United Nations Climate Change Summit. While the 16-year-old was widely lauded for her tirade against first-world nations for not doing enough to avert global warming, she was also subjected to vicious trolling by a major section of social media users. Unnerved, Greta on Thursday lashed out at them with a scathing post on Twitter. Who Is Greta Thunberg and Why Has She Been Nominated for the Nobel Peace Prize?
The student-activist accused lumpen elements on social media, along with the political followers of select-ideologies, of discrediting her by spreading malicious information and fake news. Their efforts, she added, would not yield success as the young generation is focused on the issue of climate change, rather than indulging in their "propaganda".
"I honestly don't understand why adults would choose to spend their time mocking and threatening teenagers and children for promoting science, when they could do something good instead. I guess they must simply feel so threatened by us," Greta said.
"But don't waste your time giving them any more attention. The world is waking up. Change is coming whether they like it or not. See you in the streets this Friday," she added, referring to the 'Fridays For Future' protest organised by her in Stockholm each week.
Greta Thunberg Raps Trolls, See Her Tweet Below:
Here we go again...

As you may have noticed, the haters are as active as ever - going after me, my looks, my clothes, my behaviour and my differences.

They come up with every thinkable lie and conspiracy theory. (Thread->) pic.twitter.com/5rS2VpZj00

— Greta Thunberg (@GretaThunberg) September 25, 2019
The picture posted by Greta was also aimed at countering her critics' claim that she herself flies in aircraft for various event while preaching the world to cut down on emissions. In the image - in the tweet above - Greta could be seen on a boat which she used for sailing to New York from Sweden.
The UNICEF also supported Greta's tirade against her critics, saying that bullying should be stopped. The top UN body motivated the teenager, stating that the future belongs to people like her.
Here's What UNICEF Tweeted:
Bullying is wrong.

Thank you for being a force for good.

Thank you for taking action.

Thank you for being you.

Keep going.

— UNICEF (@UNICEF) September 25, 2019
Speaking at the UN conference on climate earlier this week, Greta slammed the world leaders for not aggressively focussing on the issue of global warming. She also expressed disapproval over the commitments made by several heads of states under the Paris Climate Accord, claiming that even if the signatories of the deal adhere to their commitments, there is only 50 per cent chance of preventing the world temperature from rising by 1.5 degree celsius in the next decade.
"We are in the beginning of a mass extinction and all you can talk about is money and fairy tales of eternal economic growth - how dare you?" asked Greta, receiving a thunderous applause from the crowd. Among those in attendance was US President Donald Trump, who has described climate change as a "propaganda" and had pulled out of the Paris Climate Agreement in 2015.
Greta, who was awarded with the "Alternate Nobel Prize" by the Right Livelihood Foundation on Wednesday, began her activism in 2017. The girl ignited a movement against climate change in Sweden through her 'Fridays for Future' outside the Swedish parliament. Over the past couple of years, the strength of pupils participating in such agitations has increased. Thousands now attend her rallies each week.