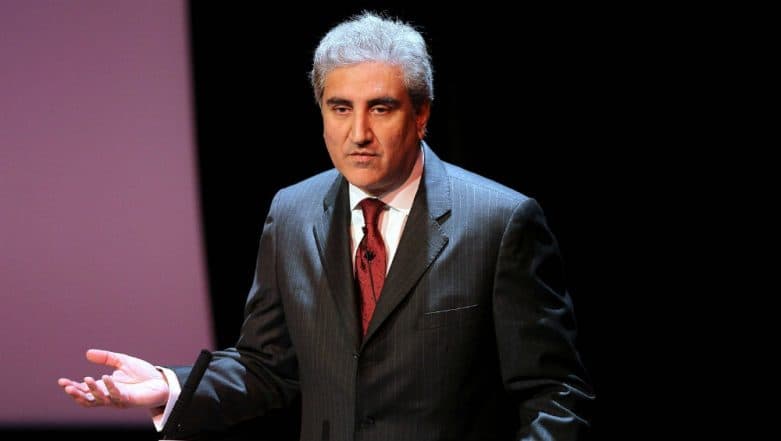 New Delhi, February 28: Pakistan's Foreign Minister Shah Mehmood Qureshi has said that they would think about releasing an Indian Air Force (IAF) pilot, who is in their custody, after tension de-escalates with India. His statement came a day after Pakistan army said it has arrested an Indian pilot. Tensions between India and Pakistan reached a peak on February 14 when a terrorist of Pakistan-based Jaish-e-Mohammed carried out a suicide bombing, killing 40 CRPF personnel in Jammu and Kashmir's Pulwama.
"We want the situation to de-escalate. If the situation does de-escalate, we can think about releasing the captured pilot," Qureshi was quoted as saying. India on Wednesday said Pakistan has committed an "unprovoked act of aggression" by targeting Indian military posts with its air force and sought immediate and safe return of an IAF pilot in its custody. India also issued a demarche to Pakistan, objecting to the "vulgar display" of the injured IAF pilot in violation of all norms and said Islamabad must ensure that no harm is done to the Indian defence personnel in its custody. India-Pakistan Tension: Blacklist Jaish-e-Mohammed Chief Masood Azhar, UK, US and France Tells UN Security Council.
On Wednesday, India's Ministry of External Affairs said that Pakistan Air Force targeted military installations in India in response to Indian counter-terrorism operations but their attempts were foiled successfully, though one Indian pilot is "missing in action". The MEA said that according to Pakistan the missing IAF pilot was in their custody. "We are ascertaining that," the MEA spokesman said. According to Pakistan, the pilot has identified himself as Abhinandan Varthaman. Islamabad also claimed that it had shot down an Indian Air Force's plane, which crashed in its territory. After Imran Khan's Pitch For Talks, India Hands Over Dossier to Pakistan With Details of JeM Role in Pulwama Attack.
On Tuesday, Indian Air Force bombed a Jaish-e-Mohammad (JeM) training camp in Balakot in Pakistan, 12 days after a suicide bomber killed more than 40 Central Reserve Police Force troopers. Pakistan-based JeM admitted to carrying out the attack.