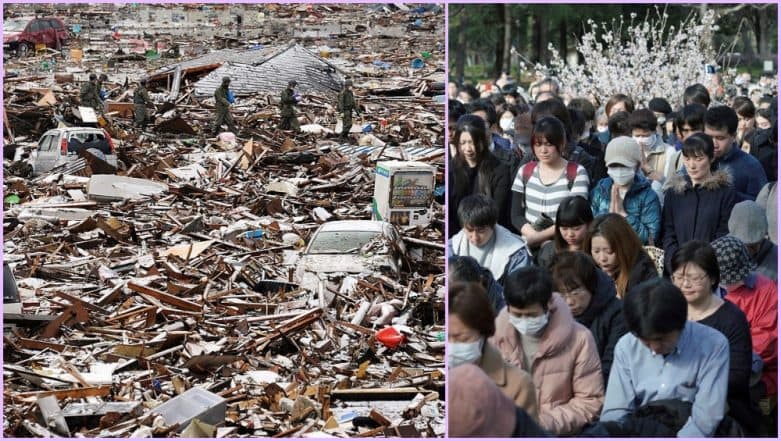 On March 11, 2011, at 14:46 JST (Japan Standard Time), a 9.1 magnitude earthquake took place 231 miles northeast of Tokyo at a depth of 15.2 miles. The quake caused a tsunami with 30-foot waves that damage several nuclear reactors in the area. It is the most massive earthquake that ever hit Japan. As of the recent reports, the disasters had left 15,897 people confirmed dead, and over 50,000 people have yet to return to their hometowns. Eight years on of the 3/11 devastating natural disaster, people are sharing pictures from the Tohoku earthquake and subsequent tsunami. Social media still mourns the loss of lives in the 2011 Japan earthquake. Sightings of Rare Oarfish in Japan Raises Fear of Natural Disaster Among Residents. 
At 2:46 pm JST, an 8.9 earthquake took place 231 miles northeast of Tokyo. Soon the Pacific Tsunami Warning Center issued a tsunami warning for the Pacific Ocean from Japan to the US about an hour after the quake, waves up to 30 feet high hit the Japanese coast, sweeping away vehicles, causing buildings to collapse and separating roads and highways. Besides, a nuclear power plant meltdown triggered nuclear emergency. Ethiopian Airlines Flight ET302 En Route to Nairobi from Addis Ababa Crashes With 149 Passengers And 8 Crew Members on Board. 
Pictures of Japan 2011 Earthquake
Today, on the 8th anniversary of the 2011 Tōhoku earthquake and tsunami, we join the Japanese people in mourning the lives tragically lost in the disaster. We pay tribute to your courage, our Japanese friends, your efforts to restore the destroyed areas.https://t.co/XzgKPcjSuH pic.twitter.com/3UEEeTwZhh

— 駐日ロシア連邦大使館 (@RusEmbassyJ) March 10, 2019
Look Back at the Devastating 2011 Earthquake in Japan
Here's a look back at Japan's 2011 Tohoku earthquake and tsunami, 8 years on #津波 #東日本大震災 pic.twitter.com/jS22jERN07

— TicToc by Bloomberg (@tictoc) March 8, 2019
People Pay Their Respects to 2011 Earthquake & Tsunami Victims
8 years on, people across Japan pay their respects to victims of the 2011 tsunami and earthquake that left about 20,000 people dead or missing #東日本大震災から8年 #東日本大震災 #震災から8年 pic.twitter.com/B3fUxtyIo5

— TicToc by Bloomberg (@tictoc) March 11, 2019
Though Japan is considered as a world leader in disaster preparedness, the 2011 quake caused devastating damage and humanitarian needs that required an international response. It is said to be the most powerful earthquake ever recorded in Japan and the fourth most in the world since modern record-keeping began in 1900. At the National Theater in Tokyo, a moment of silence will be observed at 2:46 pm, the time of the day when the disaster occurred.
In 2018, the reconstruction authority reported that 100,000 evacuees moved into permanent housing in the past two years, so only, 75,000 evacuees remained in temporary housing. About 92 per cent of public housing units were completed. Most of the infrastructure that had been destroyed such as roads, bridges, railways and airports, has been reconstructed. However, the failure of the nuclear power station in Fukushima has had long-ranging effects and has made a recovery in the Fukushima prefecture difficult.