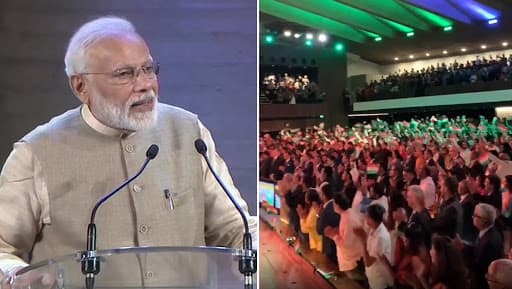 Paris, August 23: Prime Minister Narendra Modi on Friday received a rapturous welcome at the UNESCO headquarters in Paris, where most the Indians in France were present. In his address, he stated that his government had taken action against corruption, nepotism, the loot of people's money and terrorism in just 75 days of coming to power.
Addressing the Indian community, PM said, "In new India, the way in which action is being taken against corruption, nepotism, loot of people's money, terrorism, this has never happened before. Within 75 days of the new Govt coming to power we took many strong decisions." PM Narendra Modi In France: India-France Friendship is 'Unbreakable'
The Indian Premier also called India's relations with France as "very special", claiming the friendship would continue. Speaking at the event, he stated, "Today in the 21st century we talk of INFRA. I would like to say that for me it is IN+FRA, which means the alliance between India and France."
Here's the video of PM's Modi Grand Welcome:
Rapturous welcome for PM @narendramodi at the community programme in Paris! pic.twitter.com/8YzmFf1MUM

— PMO India (@PMOIndia) August 23, 2019
Apart from stating issues, PM Modi also said that 70 years were wasted to remove temporary from Article 370. Also, he said that India would be the fourth nation to land on Moon and thanked France for fighting global terrorism together. The Indian Premier stated that, in his new tenure, his new government banned triple talaq and took many important decisions for the betterment of citizens.
Earlier, PM Modi was accorded a red-carpet welcome at the airport where he was received by Minister for Europe and Foreign Affairs Jean-Yves Le Drian. As per the scheduled three-day visit, President Emmanuel Macron, UNICEF Director-General Audrey Azoulay and addressed a community program.