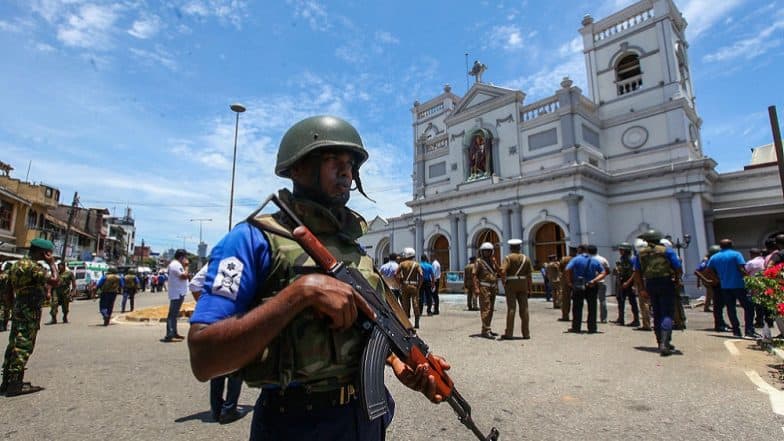 Colombo, April 22: President Maithripala Sirisena has issued the orders to impose a state of emergency across Sri Lanka from Monday midnight, giving the security forces and government functionaries a full mandate to crackdown on hardliners posing a security threat to the peace and communal harmony in the island nation.
The decision to impose emergency was finalised at the national security council meeting held earlier in the day, which was attended by the President as well as Prime Minister Ranil Wickremesinghe. An official privy to the meeting said the government is of the view that "international elements" were involved in the "coordinated" terror attack on the Easter Sunday. Sri Lanka Police Find 87 Bomb Detonators at Bus Station in Colombo.
The death toll on Monday jumped to 290, with over 500 reported to be injured. The family of victims are being provided all possible assistance by the Lankan government. The deceased, mostly Christians, also included Chinese, Danish, American, Swedish and Indian nationals. According to New Delhi, at least 9 its citizens have been killed in the attack.
Lanka Health Minister Rajitha Senaratne, while addressing the press earlier in the day, said preliminary reports have revealed that the 7 suicide bombers were linked to a local jihadist group - the National Thowheed Jamath (NTJ). The group gained notoriety last year after it vandalised Buddha statues in remote parts of the nation.
The pattern behind the attacks, say security experts, reflects the involvement of transnational terrorist groups. The attack, which ravaged the cities of Colombo, Negombo and Batticaloa, targeted a spree of churches and luxury hotels.
A day after the attack, the Lankan police seized 87 detonators from the main bus stand in Colombo. An non-fatal blast was also reported outside the St Anthony's Church, where explosive inside a van exploded while officials of the bomb squad were defusing them.