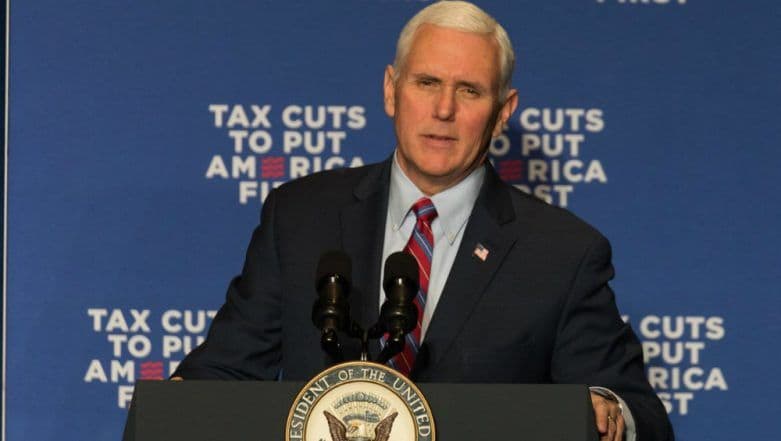 Toronto, February 15: The Trump Administration has chastised its allies in Europe for continuing to stick to the Iran nuclear deal as it undermines the U.S.'s efforts to isolate Tehran. Speaking at a Middle East conference in Poland, US Vice President Mike Pence slammed the European Union for remaining party to the Iran P5+1 JCPOA despite the Trump administration withdrawing from it in 2018. "Sadly, some of our leading European partners have not been nearly as cooperative. In fact, they have led the effort to create mechanisms to break up our sanctions," Pence said.
The Trump Administration has imposed economic sanctions on Iran to try and bring it to the negotiating table so that a tougher deal can be negotiated but EU countries – the UK, France and Germany remain party to the deal. They have in fact just last month announced the creation of a financial instrument that allows them to transact with Tehran and bypass U.S. sanctions.
Pence slammed this route taken by UK, France and Germany and said the trade with Iran was "an effort to break American sanctions against Iran's murderous revolutionary regime". "It is an ill-advised step that will only strengthen Iran, weaken the EU and create still more distance between Europe and the United States," he said.
France and Germany have not sent their top diplomats to the foreign minister-level meeting in Warsaw which included participation from Iran's key rivals – Israel, Saudi Arabia and other countries from the Middle East.
Meanwhile, Iran's Foreign Minister Mohammad Javad Zarif slammed the conference as an Iran bashing conference and said the two-day Warsaw meeting was "dead on arrival" as European diplomats have stayed away from it. He described the meeting as the "Warsaw Circus", and said it was "no coincidence that Iran is hit by terror on the very day" the talks began in Poland's capital.