One of the most burning economic issues in the country right now is the hike in petrol and diesel. The current government has been criticised for not putting a cap on the petrol prices (and also for waiting for the Karnataka elections to get over to raise the prices). In Mumbai, the price for a litre of petrol has now crossed the Rs 80 mark, and many have taken to Twitter and other social media to protest against this unfair hike. The admirers of the current party presiding over the government are finding out ways to justify the price hike, but what they can offer are just more excuses. In the interim, trolls are finding out celebs who had trolled the previous government when the petrol hike happened and are quiet now. Like Akshay Kumar, for instance.
Akshay Kumar is often accused by the left liberals for his close associations with the BJP. He was even trolled for waving an ABVP flag at a promotional event in a college. Now the actor has been targetted for a six-year-old tweet where he had joked about the petrol hike when the UPA alliance was in the government.
This is the tweet that Akshay Kumar had posted years back -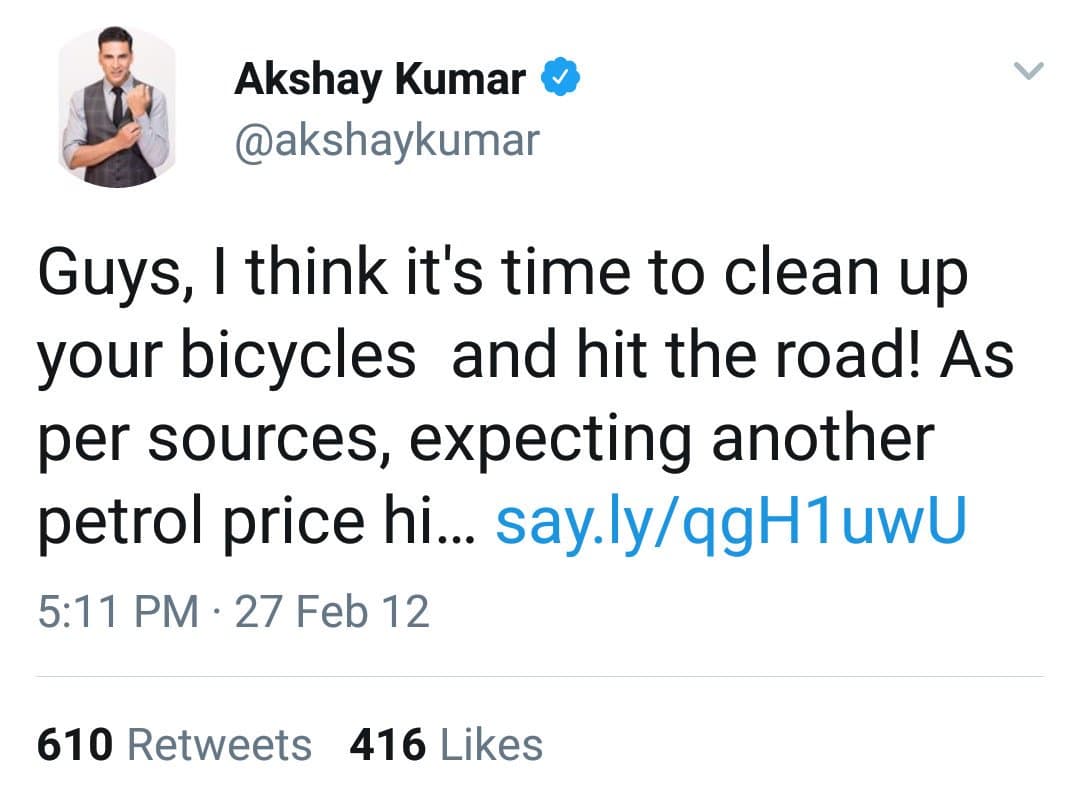 Now when the prices are hiked again, Akshay Kumar's followers are wondering why he hasnt' tweeted about the same or whether he is now travelling in his bicycle again. The actor got trolled so much over this old tweet, that he had to delete it from his timeline. Here are some tweets that trolled the National award-winning actor for his partisan take on fuel price hike.
The bicycle joke
Akshay Sir, Big Fan! Can you please lend me your bycycle? I'll get it cleaned. https://t.co/uVWnlF6h4o

— Unofficial Sususwamy (@swamv39) May 20, 2018
Not just Akshay, but there are others too...
Am thinking of all the bravehearts from Sr Bachchan to Akshay Kumar, Anupam Kher to Chetan Bhagat, Ramdev to Sri Fraud who piled on to Dr Manmohan Singh for the petrol price hikes. But not a squeak against Modi. What happened to the black belts, big talk, and heroics?

— IndiaExplained (@IndiaExplained) May 21, 2018
That hurts!
Canadian Akshay Kumar deleted this tweet from his pre deshbhakti era.. now he is silent because petrol prices are stable for him. pic.twitter.com/7UNTFmgozL

— Bhagoda Canadian Deshbhakt (@FlopAkshayKumar) May 21, 2018
Reading between the lines
Akshay sir would say today that cycling is good for health thats why petrol price hike is good for citizens...if only people were health conscious they would understand the intentions of our government

— arun kumar (@arun21k) May 20, 2018
Akshay Kumar has also found himself in another controversy when certain sections of the army and media protested against the auction of his Naval costume from the movie Rustom. He, along with wife Twinkle Khanna have distanced themselves from the controversy, as they reveal only the costume is put up for auction and not the medals.
(The above story first appeared on LatestLY on May 21, 2018 04:07 PM IST. For more news and updates on politics, world, sports, entertainment and lifestyle, log on to our website latestly.com).