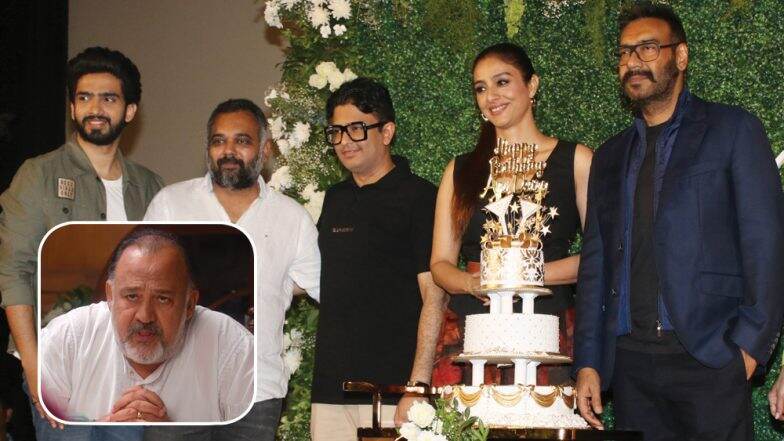 De De Pyaar Hai movie trailer just dropped on the internet. Ajay Devgn-Tabu-Rakul Preet Singh starrer film is light-hearted and pleasing to watch. However, despite this, what irked the fans was the screen presence of actor Alok Nath. The Hum Aapke Hai Kaun actor is seen in a few scenes of the trailer and that took the fans by surprise. The actor was embroiled in the raging #MeToo controversy. At the trailer launch, Ajay Devgn was asked about his inclusion in the film despite the sexual harassment allegations made on him by a TV actress. De De Pyaar De Trailer: Bollywood Ignores #MeToo, Alok Nath Gets Screen-Space in Ajay Devgn's Movie.
When the producer of the film, Luv Ranjan was asked about the inclusion of the actor in the film, the Singham star interrupted. He said, "This is not the right place to talk about it. And jinki aap baat kar rahe hai woh film uske pehle complete hui (the film was completed before the allegations were levelled on him)."
The actor was accused of rape allegations by a TV actress. She accused that Alok Nath sexually harassed her 19 years ago. Not just the actress, but also other TV stars told the not so pleasant anecdotes from the sets of the films. Some even pointed out the misbehaviour after consumption of alcohol.
Watch Trailer of De De Pyaar Hai Here:
Federation of Western India Cine Employees (FWICE) issued a six-month non-cooperation directive to the actor in February 2019. He reportedly denied being a part of POSH (Prevention of Sexual Harassment) inquiry, leading to this decision by the committee. As the trailer has raised the eyebrows, definitely, all eyes are on the final verdict related his case.