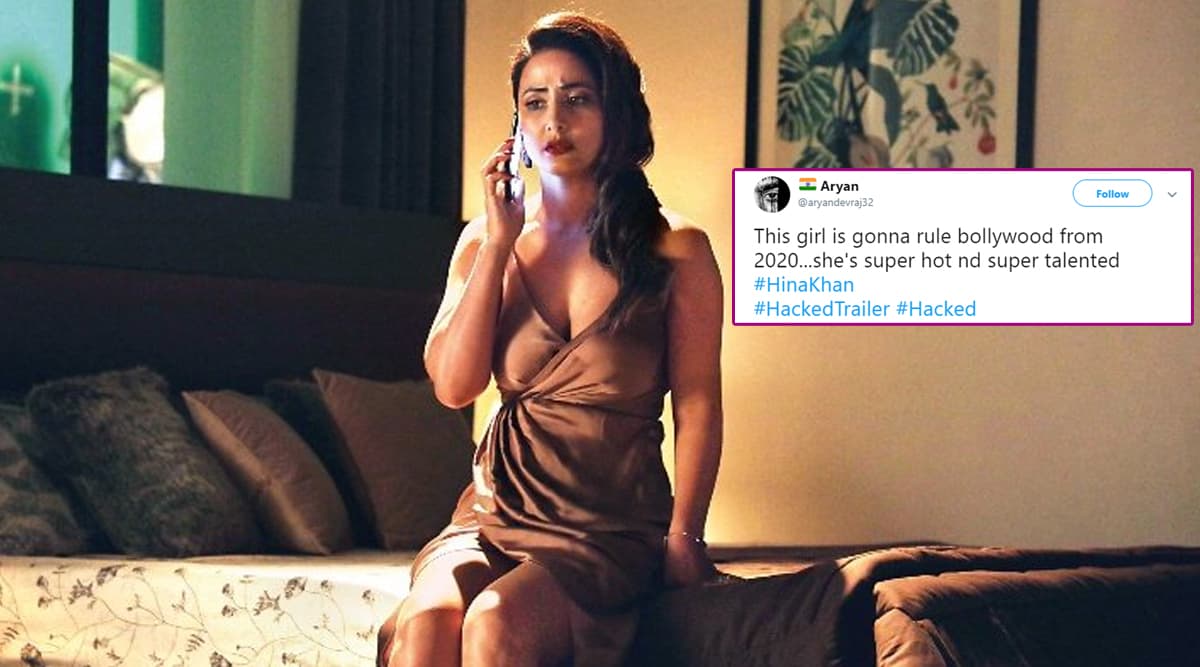 The Internet, as well as social media, play a very important role in the lives of one and all. But what happens when your social media account gets hacked and all your personal deets is shared with the world? Well, that's exactly what Hina Khan's upcoming film's trailer, Hacked highlights. The trailer of Khan's movie released on Monday and going by the looks of it, all we can say is that it's intriguing as well as an eye-opener to many social media addicts out there. Not just us, even Tweeple's are going gaga over Hina's debut film trailer and have flooded the micro-blogging site with praises for her. Hacked Trailer Out Now: Hina Khan's Latest Release Highlights The Perils Of Psychotic Love & Obsession In The Internet Age (Watch Video).
As per the trailer, Hina Khan essays the role of a successful fashion editor whose close friend; a 19-year-old teenager (played by Rohan Shah) is obsessed and in love with her. As the story proceeds further, we see how Rohan becomes dangerous for Hina and hacks all her social media accounts. He also installs cameras in Hina's abode to keep track of her. In a nutshell, Hacked trailer looks a brilliant masterpiece and connects well with today's audience. And so let us have a look at a few Twitter reactions on the same. Hina Khan Announces Vikram Bhatt's Hacked Release Date Along With A Hot Motion Poster (View Pic).
Hina Slays!
HK slaying in all these looks.#HinaKhan#HackedTrailer #Hacked https://t.co/7AuU8wr2LB

— Akshara♡ (@2mahira) January 20, 2020
We Agree!
Looks bomb!!!!!

Hella excited for this.

Hina at her best as ever 🔥🔥

All the best #HinaKhan and #hinaholics

This is gonna be a chart buster. #HackedTrailer https://t.co/Y2OPdpWMrL

— PS. (@parth1an) January 20, 2020
New Concept!
OMGeeee#HinaKhan Is Slaying In #HackedTrailer New Concept In Bollywood.

"You Just 19years Old.

Shaitaan Ki Koi Umar Nhi Hoti."

Sam Is Victim Women By 19years Old Psycho Hacker Lover🙊🙊🙊@eyehinakhan Nailed It. Ye To Bus Trailor H Abhi To Puri Picture Baki H.

Hina Di🔥🔥🔥

— 🇮🇳 Aryan (@aryandevraj32) January 20, 2020
Ah-mazing!
@eyehinakhan She's just amazing 🔥🔥🔥😍 loved the trailer.. amazing storyline🔥🔥❤ sci-fiction #HackedTrailer #Hacked

— Shweta (@shwetab23) January 20, 2020
Hina Is Gonna Rule!
She is gonna rule although haters will disagree.#HackedTrailer #NoWhereToHide #HinaKhan #Hacked

— Sonamdoll (@Sonamdoll1) January 20, 2020
Fantastic!
The first thing that came to my mind after watching the hacked trailer is Fantastic😎👌.

Sotry line is perfect & Once again #HinaKhan nailed her character🙌...@TheVikramBhatt well done 👌

Excited 🕺💃#Hacked #HackedTrailer @eyehinakhan pic.twitter.com/yXFf5H9wAo

— CHETAN SHARMA 🍪🔪 (@chetan_sharma10) January 20, 2020
Earlier, the director of the film Vikram Bhatt had spilled beans on the film and had said (in a statement), "I have put aside the horrors of the spirit world to talk about the horrors of the real world and our vulnerable lives on the Internet is one such horror. It just takes one Hacker with enough motivation to ruin your life," Hacked is scheduled to release on February 7, 2020. Stay tuned!