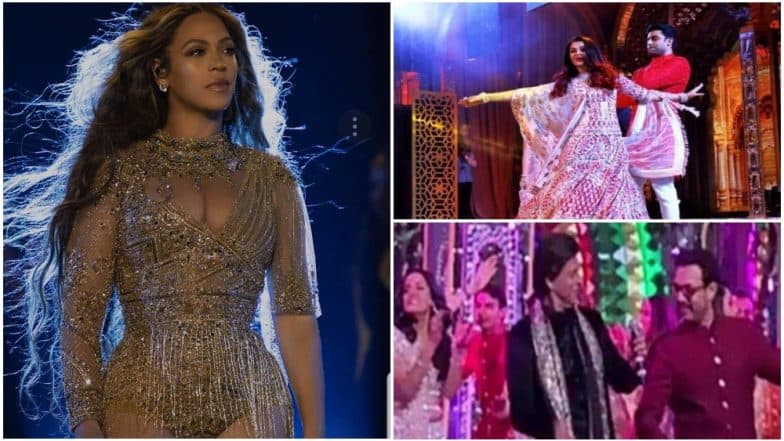 As expected Isha Ambani and Anand Piramal's Pre-Wedding ceremony was a star-studded function. Not only did the Bollywood biggies like Aamir Khan, Salman Khan, Shah Rukh Khan, The Bachchans, Ranbir Kapoor, Priyanka Chopra, Deepika etc attend the function held in Udaipur, they also danced on stage to entertain the guests there. Not just that, Mukesh Ambani even flew in Beyonce to perform at the event. Whoever said Money can't buy you happiness, well, haven't seen the videos from the ceremony that are going viral! Nita and Mukesh Ambani's Funny Memes Invade The Internet: The Couple's Pic From Isha Ambani and Anand Piramal's Sangeet Go Viral!
And when things go viral, of course, the jokes also follow after that. Many of the Twitter users are actually shocked about Ambanis bringing in Beyonce. Some of them are also surprised that Salman Khan looked like a 'background dancer' when Anant Ambani performed. The best reactions came when Aishwarya and Abhishek Bachchan performed, as the former moved gracefull while the latter shrugged his shoulders. Video: Salman Khan Turns Background Dancer for Anant Ambani's Performance at Isha-Anand Piramal's Wedding Sangeet, Gets Trolled Hard.
Check out some of the tweets below -
The Perfect Description
Choreographer to Aishwarya - lift your arm,then bring it to your side,twirl,then go towards the background dancers,do the peacock step,twirl back to Abhishek, outline his silhouette, then twirl to other side, blow a kiss

Choreographer to Abhishek - stand & do shoulder shrugs https://t.co/lwOCQgBKSm

— Zainab Sikander (@zainabsikander) December 9, 2018
Point!
Abhishek Bachchan's contribution in this performance is same "ueue" in Queue. https://t.co/EyGTvZtjYc

— Bollywood Gandu (@BollywoodGandu) December 9, 2018
Kahani Ghar Ghar Ki!
By far the most accurate portrayal of the difference in responsibilities for wives and husbands in an Indian marriage https://t.co/8IgL3ITngT

— IVA DIXIT (@ivadixit) December 9, 2018
Of Course, 'Guru' Analogy Has To Be Made!
dhirubhai and kokilaben performing for their granddaughter https://t.co/bH4Sejjj36

— my youth is yours (@being_420) December 9, 2018
Salman a Dancer?
Anant Ambani: When i perform on stage, i need some good Background dancer.

Mukesh Ambani: OK i will arrange Salman Khan pic.twitter.com/ZOjVMl8LLu

— Joy (@Joydas) December 9, 2018
The 'Bucks' Jokes Are In!
Salman as background dancer.

This time the bucks won. pic.twitter.com/YfBm7ef05C

— Kajol Srinivasan (@LOLrakshak) December 10, 2018
Ouch!
What's the big deal about Salman Khan dancing in the background at the Ambani wedding? Even the PM is dancing to his tune.

— Jet Lee(Vasooli Bhai) (@Vishj05) December 9, 2018
Hmmm! Who Noticed That?
Ambanis can make Salman Khan a background dancer that too on SRK's song #IshaAmbaniSangeet pic.twitter.com/3USXjpov9p

— Sir Jadeja (@SirJadeja) December 9, 2018
Lol!
Beyonce taking her cash after performing at the wedding of the daughter of India's Richest Man, Mukesh Ambani pic.twitter.com/6B6wSCCNIC

— Chris (@Perrysfirstlove) December 9, 2018
We Need To Have One Sacred Games Joke!
Mukesh Ambani after bringing #Beyonce to perform in the wedding and reducing Bollywood celebs to background dancers. #IshaAmbaniSangeet pic.twitter.com/HJu8Uml8qf

— Sir Jadeja (@SirJadeja) December 9, 2018
All in all, at least the Amabanis were having a fun time there. If you have the money to flaunt it and can hire the best entertainers to groove for you, who are we mere mortals to complain about the same!