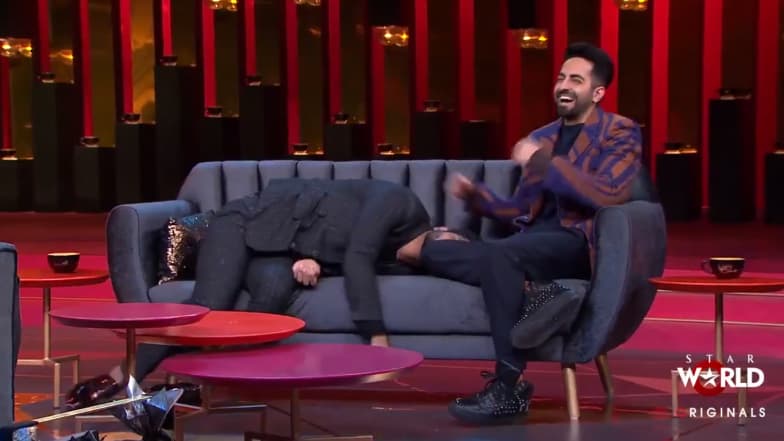 The next episode of Koffee with Karan 6 looks like the kind that will make headlines for a long time. Let's admit it, this season has so far failed to give us an episode worthy of that, and we, who are deeply invested in the Bollywood drama need it. The new promo features Ayushmann Khurrana and Vicky Kaushal seated on the couch facing Karan Johar's questions. There is an interesting bit of information revealed in the promo. Remember Vicky Donor How can anyone forget Ayushmann's debut film in which he played the role of a sperm donor! Well, turns out the actor had prior experience of the role he was playing. Koffee with Karan 6: KJo Feels Honoured to Shoot with Baahubali Stars Prabhas, Rana Daggubati, SS Rajamouli - View Pics.
In the promo, Ayushmann reveals that he has actually donated sperm in real life. Karan and Vicky are quite intrigued by this information. We are too. Karan asks Vicky if he has done the same. Vicky says no. No wonder, Ayushmann gave such a natural performance in Vicky Donor, the movie that went on to become a super hit.
Watch Koffee with Karan Promo Here:
.@diljitdosanjh finds himself at the wrong end of @karanjohar's questions! #KoffeeWithDiljit #KoffeeWithKaran pic.twitter.com/1xclfSt2Ot

— Star World (@StarWorldIndia) December 9, 2018
The promo also features Karan revealing to Vicky that Katrina Kaif has said she'd look good with him on screen. When asked to give his reaction on the same, Vicky, cutely, pretends to faint.
Watch the Second Promo of Koffee With Karan Episode Featuring Vicky and Ayushmann
This Ayushmann Khurrana and Vicky  Kaushal episode of Koffee with Karan 6 already looks like a winner. Can't wait for the next Sunday. Meanwhile, Diljit Dosanjh and Badshah's KWK episode is out, so you should check it out.
In the upcoming episodes of this catty chat show, we will see Sonam Kapoor-Rhea Kapoor-Harshvardhan Kapoor, Bhumi Pednekar-Rajkummar Rao, KL Rahul-Hardik Pandya, Shahid Kapoor-Ishaan Khatter, Sidharth Malhotra-Aditya Roy Kapur turning up for a tete-a-tete with KJo.